When Eden Valley-Watkins beat BOLD on a last-minute touchdown in the state football playoffs at the Metrodome on Saturday, ninth grader Nick Topp wished he could have been on the field. But he was grateful to be be in the stands cheering, after spending a month in the Hennepin County Medical Center with severe burns.

Nick, 15, a freshman at EV-W and a wide receiver on the football team, is recovering from third-degree burns he suffered over more than 40 percent of his body, including both legs and his left arm. He also had second degree burns on his face, his right hand, and his back.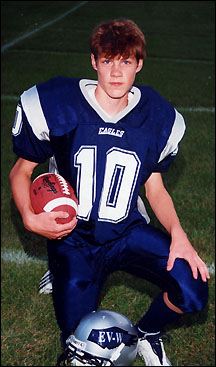 On Sunday, Nov. 28, a benefit is planned for Nick at the the Eden Valley-Watkins High School cafeteria in Eden Valley. Organized by the Church of Our Lady in Mannanah, along with Nick's family and friends, the benefit from 3 to 7 p.m. will include a roast beef dinner, drawings, and a silent auction.
Nick Topp suffered sever burns in a campfire accident in October and spent a month in the hospital. He still must travel to the Twin Cities daily to get his dressings changed.
After spending more than a month in the hospital, Nick is now recovering at home.
Nick's ordeal began on Friday, Oct. 8., at a post-football bonfire, when he tripped on a rock and fell into the flames. Three friends pulled Nick from the fire, with flames leaping out of his jeans, and piled on him to extinguish the fire. Then the boys carried Nick nearly 100 yards to the house where one of the boy's parents called 9-1-1.
Nick's parents, Bonnie and Dan, had no idea how bad his injuries were until they were on their way to the accident site and saw the medi-vac helicopter hovering overhead. "I knew then that it was really bad," said Bonnie.
In the ambulance, Bonnie recalled Nick screaming in pain because the ambulance crew wasn't allowed to give him any painkillers. "Oh, my God, to see your child…," she said, remembering her son's pain, her voice breaking, unable to finish.
Even in the medivac helicopter, even in severe pain, Nick was grateful to his rescuers, said Bonnie. His friends "saved my life," Nick told her. But Bonnie considers the trio that pulled her son out of the fire to be heroes. "We thank God for them," she said of the three teens.
Over the next month, the Topps' lives were a whirl of hospital beds, surgeries, and medical procedures. Skin grafts were used to replace Nick's burned skin. One whole piece of skin covered the burns on Nick's left arm, which is healing very well, said Bonnie. In fact, doctors and nurses told Bonnie that the skin graft on Nick's arm is the best-looking graft they have ever seen.
The grafts on his legs are beginning to heal, but his right knee had a particularly deep burn and the new skin disintegrated in rejection. Now doctors don't know if he will need to undergo another surgery to repair the knee.
Meanwhile, Nick's teammates - including his brother Sean, a starting halfback - kept winning football games and advancing in the Class AA playoffs.
Even though he's home now, Nick still has a long road ahead. He can only walk a short distance on crutches, and each step is painful, said Bonnie. Just changing the dressings on his legs is excruciating, added Bonnie, and must be done at the hospital so he can be given pain medication during the process. At first Bonnie thought the dressing changes would be done every two to three days, but last week Nick had a reaction to that type of dressings, so now the dressings need to be changed daily.
Nick also struggles with eating enough to help regain the 15 pounds he lost in the hospital and to provide the extra energy his body needs to heal and to fight infections that threaten to invade through his damaged skin.
But it could have been much worse. Bonnie is just glad her son is alive.
While he was in the hospital, Nick's spirits were low, according to his mother. Since returning home, though, his spirits have improved because he can see his friends and girlfriend, who visit frequently. Bonnie believes this will help her son heal more quickly.
Next week, he will start working with a tutor to help catch up with missed schoolwork, which he could live without, he said with a grin, although he admits it will be nice to be back in school with his friends.
Throughout the Topps' ordeal, their family, friends, and neighbors have been incredible, said Bonnie. Dan operates the family farm, and Nick's accident happened just as the soybean harvest was beginning, said Bonnie. People came from everywhere to help the family with their harvest. At one point, her father-in-law had to turn away help because there wasn't enough equipment to use.
Bonnie's parents and Dan's parents have been wonderful too, she said. Nick's siblings - Randy, Sean, Krista, and Andrew - kept their home in order while Bonnie camped out in the hospital with Nick. One time Bonnie came home to find her mother-in-law scrubbing her kitchen floors. She can't thank everyone enough, she said.
Bonnie, who works as a home health care assistant, hasn't worked since Nick's accident, and she has no idea how much Nick's medical expenses will cost in the end. Though the family has medical insurance, it will not cover all their expenses, including lost wages and daily trips to the Twin Cities for dressing changes.
So Bonnie is grateful that her church and her friends are holding a benefit. Her family is blessed to have such caring friends, family, and church, she said.
Nick is a great kid, said Denise Hansen of Paynesville, who is helping to organize the benefit as a way to help a deserving family.
For more information about the benefit or to donate items for the silent auction, call the Church of Our Lady at 320-453-7526. Cash donations can also be made at the State Bank of Eden Valley.
---
Contact the author at editor@paynesvillepress.com • Return to News Menu
Home | Marketplace | Community
---