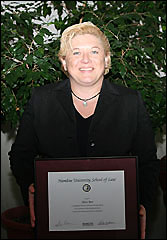 From a childhood in Paynesville to a career in Washington, D.C., Mara Burr has distinguished herself through her work with the North American Free Trade Agreement, the Central America Free Trade Agreement, and the World Trade Organization.

Mara Burr, a 1987 PHS grad, was named a distinguished alumni from Hamline University School of Law this fall for her work in international trade law.

For her work in international trade law, Burr, a 1987 PHS graduate, received one of three distinguished alumni awards from Hamline University in October.

Burr received her juris doctor from Hamline University School of Law in 1995. She also is a graduate of the Georgetown University Law Center with a masters of legal letters (LLM) in international and comparative law.  After graduating from PHS in 1987, she received her bachelorıs degree in political science from the University of St. Thomas.

Burr currently serves as a deputy assistant U.S. trade representative for environmental resources and resides in Alexandria, Va.

For her work, Burr travels ­ at least once a month ­ primarily to the Caribbean, Central America, Latin America, South America, and Southeast Asia. She frolicked in realism of her frequent travel, ³Youıre kind of always a little unsure of where you are and what time it is, and you always have the wrong money,² adding that she has jars of currency at her desk as a proactive measure to her global, on-the-go lifestyle.

Burr works stateside ­ a half block from the White House ­ with Congress to inform members and staff of the status of negotiations and specific issues of trade and the environment. At the Office of United States Trade Representative ­ part of the executive branch of the United States government ­ she has served as the lead U.S. environmental negotiator for the Colombia Trade Promotion Agreement, the Free Trade Area of the Americas, the Malaysia Free Trade Agreement, and the Peru Trade Promotion Agreement.

Burr said that her work days are never typical, which is what makes it exciting. She said that she may be starting the process of negotiations with a country when she checks her e-mail and is informed of an issue that needs her immediate attention. On her work in international trade, she noted that trade initiatives provide market access to goods produced in the U.S. She said that a reduction in tariffs lowers the expense of production, generating a more prosperous commodity.

Ultimately, she works to ³ensure mutual support between the environment and trade,² adding that she works to ³expand economic opportunity in the actual core text of the trade agreement,² so it is properly implemented.

Among rewarding experiences in her current position, Burr said her involvement with the passing of the Central America Free Trade Agreement in July 2005 was a ³great thing² with ³a lot of emotion invested.² She also is proud of her work with former United States Deputy Secretary of State Robert Zoellick.

Another featured moment in her work was witnessing the signing of a free trade agreement between the United States and Peru in April, attended by former President Alejandro Toledo. Burr recalled the passionate speech given by the first Peruvian president from an indigenous heritage ³about what it means to him to have opportunity, about how important a trade agreement could be to his country. His legacy was to provide hope and opportunity. Thatıs why he wanted a trade agreement with the U.S.,² she said.

Burr believes opportunity allows a higher quality of life for those impoverished. ³In the world, there are people who live in corrugated steel shacks with dirt floors and no running water,² she explained.

Her career, which has served her to ³better understand people from different backgrounds, different traditions, different legal systems,² is ³a really interesting and great job,² she said. ³Itıs good to keep that balance and perspective. Itıs not all jet-setting and champaign. It can be quite trying at times.²

With this gained perspective, Burr has found rigidity in her daily life to have vanished. ³Issues have different angles,² she said, ³There may be a better way. You just have to be open.²

Burr said of receiving a distinguished alumni award, ³I hope itıs a commitment to professionalism and to the legal profession, being an advocate for my clients and a good representative of the United States.² She added that she hopes her work in international relations is done in a manner that brings honor to the United States government.

Hosted by Hamline Universityıs law school, the award ceremony included a symposium on globalization and what it means for attorneys in Minnesota. Burr gave a featured presentation on the environmental provisions of the Dominican Republic-Central America-United States Free Trade Agreement.

From 1996 to 2001, Burr worked in private practice of international trade and customs law in Washington, D.C. During that time, she focused on endangered species, the environment, and international trade and authored law review articles working toward remedies with the Dispute Settlement Body of the World Trade Organization. She also represented the North American Free Trade Agreement ­ among other trade agreements ­ and authored a book on export practice.

From 2001 to 2004, she worked in the public sector as special counsel for international trade policy for the Humane Society of the United States, which she represented among governments and in international organizations such as the Free Trade Area of Americas, the North American Free Trade Agreement (NAFTA), the Organization for Economic Cooperation and Development (OECD), the United Nations, the World Bank, and the World Trade Organization (WTO).

Burr said that she is enormously grateful to her parents, Eugene and LaDonna Burr, for the values they instilled and the confidence they nurtured. And due to her most cherished inspiration, she believes she owes her parents a great debt.

Of her father ­ a native of Paynesville ­ she said, ³He was always full of, sort of, the wanderlust and always willing to rise to the challenge. And very kind.²

She said her parents taught her, ³Always be kind. Be courteous. Have manners. Respect other people. I donıt think it is stressed enough today.²

She also offers gratitude to those from her hometown of Paynesville for their support of her endeavors. ³I want to make sure folks in Paynesville know theyıve got some really great people among them,² she said.

In her free time, Burr said she enjoys touring museums and communing with nature among landscapes ­ such as animal sanctuaries and rain forests ­ in each country she visits. She bought her house in Virginia 18 months ago and enjoys gardening and spending time with her two dogs. She also spends time with her mother, who resides with her, and with her friends and co-workers.
---
Contact the author at editor@paynesvillepress.com • Return to News Menu
Home | Marketplace | Community
---