Medical student relishes one-on-one attention at PAHCS
This article submitted by Michael Jacobson on 11/22/00.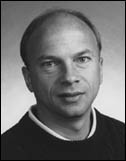 The latest medical student to use the Paynesville Area Health Care System (PAHCS) as a classroom is Jonathan Strohschein, a third-year medical student at the University of Minnesota in the Twin Cities.

While Strohschein is technically a student at the Twin Cities campus, he has not taken any classes there, preferring to get hands-on training at PAHCS. He did his first two years of course work at the University of Minnesota-Duluth School of Medicine before transferring to the main campus.

This year, he will spend nine months working in Paynesville through the Rural Physician Associate Program (RPAP). He started in mid-October and will stay until mid-July.

While all third-year medical students move from classrooms to actual medical facilities, Strohschein opted for RPAP because of the opportunity for hands-on experience. He will begin by observing, learn from discussions and consultations, and eventually be assisting in care under supervision.

Strohschein will be working primarily with Dr. Allan Solum, who will be his mentor. He also is spending time with specialists in the outreach department and with the surgeons on surgery days.

"There's nothing like hands-on learning, especially for learning medicine, and the people here are just fabulous at teaching," Strohschein said.

The entire staff-doctors, nurses, and other professionals-have helped. "Everyone here is accustomed to having students around," Strohschein explained. "The patients are used to having students. It's a remarkable experience."

In the 30th year, RPAP has 34 students in communities across the state this year. The program is designed to give medical students hands-on practice with family practice physicians in rural areas.

Strohschein, raised in Prior Lake when the suburbs hadn't reached that small town, has wanted to be a doctor since he was a kid. After graduating from Concordia College in St. Paul with a degree in chemistry and biology, he pursued another career for nearly two decades before entering medical school.

Medical schools are encouraging older applicants these days, and the average age of his class at UMD was 30, Strohschein said. "They're looking for some life experience," he explained.

Strohschein found medical school to encompass an overwhelming mass of facts to learn.

At PAHCS, Strohschein is putting things he learned in the classroom into practice. "It's easier now than it is in the textbook," he explained. "You can put a name and face to it."

Strohschein considers his placing in Paynesville to be fortunate, on account of the variety of medical services under one roof. He not only will get hands-on experience, but he gets one-on-one interaction with physicians and he has the luxury of continuity in his experience over nine months.

"Maybe the biggest thing is I'm the only medical student here," he said. Instead of being in a group of students, each wanting a chance, when a learning opportunity arises here, it will be Strohschein's opportunity.

That's why RPAP students generally emerge from their third year as better prepared than their peers, Strohschein said.

Strohschein enjoys fishing, cross-country skiing, and hunting. He lives in Annandale with his three children.
---