Ingalsbe, Lahr receive Lions Service Award
This article submitted by Linda Stelling on 11/22/00.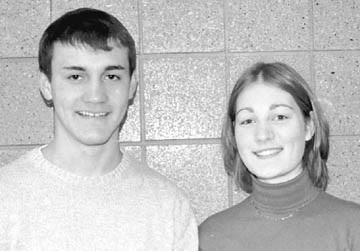 Ginni Lahr (at right) and Scott Ingalsbe (at left) were named recipients of the Lions Service Award for November.

The award is presented to members of the senior class who have demonstrated acts of service to their school and community.

Lahr is the daughter of Richard Lahr and LuAnn Quaal. She was shocked to hear she had won the award. "I never expected this," she said. "Thanks for your nomination and support. It's a great award."

She feels volunteering is important as doing something good for others brightens their day and helps them do the same for others.

Lahr is a peer helper, treasurer of the student council, and member of the National Honor Society, PALS, and Target.

At church she provides special music, helps in the nursery, participates in the youth group, and went on the Evan-gelical Free Church mission trip to Mexico.

Last summer, Lahr was named first princess in the Miss Paynesville contest. She also plays basketball, sings in the school choir, and is a member of the concert and pep band, and the Letter Club.

Ingalsbe is the son of Dave and Barb Ingalsbe. "I felt very honored to be recognized by the Lions Club," he said.

"Volunteering is important as many people and organizations benefit from volunteers, such as the Lions. Volunteers make wonderful things happen in our town and all over," Ingalsbe said.

Ingalsbe said his favorite volunteer memory is completing his Eagle Scout Service project at the Paynesville Area Historical Museum. "The other Scouts and I worked on it for several months," he added.

Ingalsbe volunteers at Paynesville Lutheran Church where he is a youth leader, helps in the nursery, and sings in the church choir and with the worship band.

He is a member of On Call Youth for Christ and sang with Stained Glass.

He is a peer helper, a member of the student council and the National Honor Society, plays in the pep band, high school choir and pops choir, and performs in drama.

Ingalsbe is also a member of the All-State Choir and participated in the United Nations Pilgrimage for Youth.
---