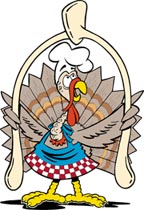 Chances are good that the turkey you'll be serving on your Thanksgiving table had its humble beginnings on a farm in Minnesota.

As the leading turkey-producing state in the country, with an estimated 43.5 million birds raised in 2001, Minnesota is home to a lot of turkeys. And that means Minne-sotans, as well as people around the country, are eating a lot of Minne-sota-raised turkey on Thanksgiving.

According to the National Turkey Federation (NTF), 91 percent of Americans eat a turkey dinner on Thanksgiving. About 675 million pounds of turkey is consumed on the annual holiday.

Minnesota is home to nearly 600 turkey farms in nearly all areas of the state, with the highest concentration in the west central portion of the state. Kandiyohi County is the leading turkey-producing county, followed by Morrison, Stearns, Becker, and Otter Tail.

Minnesota is also the headquarters of Jennie-O Turkey Store, the nation's largest turkey processing company. Jennie-O Turkey Store has eight processing plants, including in Willmar, Marshall, Melrose, and Montevideo, and has a number of turkey farms in the Paynesville area. The company processed 1.258 billion pounds of turkey in 2000, 60 percent more than the world's second leading processor (Butterball, 775 million pounds).

Minnesota's leading rival in turkey production is North Carolina, which raised 41 million turkeys in 2000. Rounding out the top five in turkey production are Arkansas (28 million), Virginia (25.5 million), and Missouri (23 million).

The Minnesota turkey industry cites its access to a readily available supply of grain, inexpensive transportation costs, and the drive of both large- and small-scale producers as keys to its continued success over the years. "Currently, 90 percent of Minnesota's turkey products processed in Minnesota are exported out of state - and 15 percent of those go directly to international markets," said Paul Hanowski, a turkey producer from Swanville, Minn., who is the current president of the Minnesota Turkey Growers Association. "That means the entire country and many parts of the world are enjoying turkeys raised locally in Minnesota."

According to an economic study by the University of Minnesota, the turkey industry contributes over $600 million to the state's economy and employs nearly 7,000 people.

Spin-off industries employ another 7,800 people, and the turkey industry spends nearly $30 million on corn and soybeans to raise the birds in Minnesota.

Turkey Facts
(From the Minnesota Turkey Growers Association)
*Minnesota is the nation's largest producer of turkeys, raising 43.5 million birds in 2001.
*Turkey producers and processors earned $212 million in 2001, and spin-off industries earned $374 million.
*The turkey industry directly employs 6,900 people, and spin-off industries employ 7,800, including the equivalent of nearly 1,800 cash grain producers.
*The average tom takes 18 weeks to reach a market weight of 30 pounds. The average hen takes 14 weeks to reach 15 pounds.
*Turkeys are fed a diet of corn, soy beans, supplemental vitamins and minerals, and water.
*A 30-pound tom eats at least 75 pounds of feed. Turkeys convert feed to weight gain at a rate of 2.4 to 1.
*No hormones are approved for use in turkeys. FDA-approved antibiotics are used to prevent disease, but a withdrawal period is required before the birds can be slaughtered.
*In 2000, turkey consumption per person in the country was 17.75 pounds.
*Top turkey export markets for the United States in 2000 were Mexico, Russia, Hong Kong, Taiwan, and the Dominican Republic.

Thanksgiving Traditions
(From the National Turkey Federation and the Minnesota Turkey Research and Promotion Council)
*45 million turkeys are consumed at Thanksgiving, 22 million at Christmas, and 19 million at Easter.
*Early explorers to America took birds back to Europe. By the 1500s, turkeys were being domestically produced in Italy, France, and England. When the Pilgrims and other early settlers arrived, they were already familiar with raising and eating turkeys.
*President Abraham Lincoln proclaimed Thanksgiving a national holiday in 1863. In 1939, President Franklin Roosevelt moved the holiday forward one week, to the fourth Thursday in November.
*Ben Franklin wanted the turkey, not the bald eagle, to be the national bird.
*When Neil Armstrong and Edwin Aldrin ate their first meal on the moon, their foil food packets contained roasted turkey and all the trimmings.
---
Contact the author at paypress@lkdllink.net • Return to News Menu
Home | Marketplace | Community
---