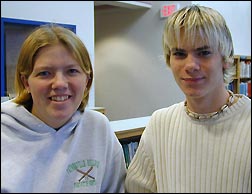 Seniors Amy Buermann (left) and Ryan Whitcomb (right) were named recipients of the Lions Service Award for November.

The award is presented to members of the senior class who have demonstrated acts of service to their school and community.

Buermann, the daughter of Gerald and Mary Jo Buermann, was amazed to have been selected for the honor. "I didn't really know much about this award. I was excited and proud that there is an award for service work. I felt respected and honored," she said.

Volunteering is one way to prove teens aren't all bad, Buermann said. "I am doing it for God. He is the one I'm serving," she added.

Her favorite memory of service work involves helping her grandmother with second grade religious education, something she has done since fifth grade.

A member of St. Louis Catholic Church, Buermann is a member of the youth council at church and the diocese. She helps with youth activities, is a mentor for confirmation students, and is a worship leader. She also has worked for Habitat for Humanity.

At school, she is a peer tutor and peer helper and volunteers time to help the sixth grade choir. She is also a member of the choir, the pops choir, a Letterwinners Club member, and the softball team.

Ryan Whitcomb, the son of Don and Brenda Whitcomb, was also very surprised to receive the award. "I never expected to get recognition for my efforts in the community and my church," he said of the honor.

"It's important to me to know that I am helping people and making a difference," said Whitcomb, who expressed appreciation for this nomination.

Whitcomb's favorite memory of service work was last summer during a church mission trip to Arizona. He made many new friends and had a sense of accomplishment after the trip.

A member of Grace United Methodist Church, Whitcomb takes part in youth worship services, helps with puppet ministry, and plays his saxophone in the worship band. He is also a member of the youth ministry team, helps in the nursery on Sunday mornings, and helped raise funds for a homeless shelter.

At school, Whitcomb is a peer tutor and helper in the elementary school. He is a member of the jazz, marching, and concert bands. He competes in track and basketball and is a member of the Letterwinner's Club.
---
Contact the author at paypress@lkdllink.net • Return to News Menu
Home | Marketplace | Community
---