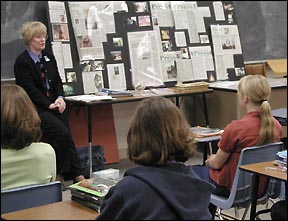 Heather Henderson's life story was brought to life last week to emphasize the dangers of eating disorders to the eighth grade girls at Paynesville Area Middle School.

Henderson, a 1991 PAHS graduate, struggled with anorexia nervosa and bulimia nervosa for 11 years before dying from related heart failure in September 2000. Her mother Kris (pictured above left) told Heather's story to the eighth grade girls, who were studying eating disorders in health class.

"Life for me is not the same since Heather died...because part of me died, too," Kris told the class, before recounting Heather's struggle with the disease, her professional work to combat it and its popular causes, and her failure to ever free herself from the disease.

Heather's eating disorder started as a high school sophomore, while losing ten pounds for prom. "That eating disorder grabbed her so fast," Kris told the girls. "After she lost those 10 pounds, she didn't know how to get rid of it either."

The Hendersons tried treatment immediately, but could never get Heather the type of treatment she needed because of limited treatment options and strict restrictions to eating disorder programs.

In her professional life, Heather became a journalist, working as an intern at the Press for two summers, before starting her career for a suburban Twin Cities' weekly. She then switched to magazines, first in the Twin Cities, and then in Duluth, where she became the editor of HUES, a feminist magazine for young women. HUES contained no advertising, so it was free of the media messages to women that say: looks are everything.

People need to question the media images of what the ideal look should be, Kris told the girls. "Feel good about yourselves," she said. "Be critical thinkers."

"You shouldn't weigh your self esteem by how much you weigh," added Diane Dutcher, using an anti-eating-disorder slogan. Dutcher teaches eighth grade health for girls and was Heather's high school gymnastics coach.

Heather's story has received national attention within the last year, including lengthy stories in the Duluth News-Tribune, the St. Paul Pioneer Press, and the Minneapolis Star Tribune. The Paynesville Press did a four-part series about Heather last winter.

Heather's story has also been used in a briefing for Congressmen in Washington, D.C. Most recently, Heather was one of three eating disorder victims to be remembered during a vigil at the American University in Washington, D.C.

Heather's family agreed to tell Heather's story as much as they could to continue her work against eating disorders. Kris says she talks about Heather whenever she can.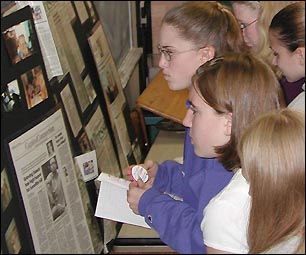 With the eighth graders, she stressed that eating disorders are not cool at all and are serious, dangerous diseases. "It's not neat. It's not fun to go up to the bathroom and find evidence that your daughter was throwing up," she said.
Heather's disease and their unsuccessful efforts to treat it caused a lot of family stress and parental worry. They worried about Heather's health and eating habits, Kris worried about whether Heather would eat her cooking, and they even worried about Heather's driving, if she wasn't going to eat enough to concentrate, said Kris.
Kristen Nietfeld and Katie Schlick check out the press coverage about Heather Henderson that ran posthumously.
Heather's story gave real-life insight to their health unit on eating disorders, agreed eighth grade students Kelly Herzberg, Jessica Leyendecker, Kayla Plantenberg, and Amanda Skalicky.
From talking about eating disorders in the book, hearing Heather's story turned them into reality, said Leyendecker.
Before Kris's talk, Plantenberg didn't really realize that eating disorders could be deadly.
"Once you do it, you can't stop. You need help," said Jessica Leyendecker.
Already the girls see signs that concern them at school, primarily students not eating lunch, either in an effort to lose weight or to avoid "looking like a pig."
The eighth grade girls were also struck by the struggle the family faced in getting treatment for Heather's disease. "I thought that was really bad," said Leyendecker.
The key is to be happy with yourself, said Amanda Skalicky.
"It shouldn't matter what you look like," added Herzberg.
Kris used an analogy of seashells to stress the importance of inner beauty. Shells might look weathered on their outer shell, but their true colors are shown on the inside.
---
Contact the author at paypress@lkdllink.net • Return to News Menu
Home | Marketplace | Community
---