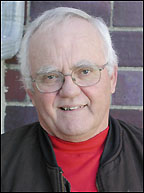 Todd Johnson recently retired after over 35 years as a veterinarian, including the past quarter century of practice in Paynesville.

Johnson, 64, who grew up in Clara City, where his dad was the superintendent of schools, had a neighbor who was a veterinarian. As a kid, Johnson rode with this vet and got interested in being a veterinarian as a career.

Todd Johnson retired at the end of October after spending 25 years as a veterinarian in the Paynesville area. An open house for him will be held on Friday afternoon at the Paynesville Veterinary Clinic, which he built in 1977.

He studied biology at St. Olaf College in Northfield, where he also played hockey, and then attended veterinarian school at the University of Minnesota. He worked in Ortonville, near Rochester, and in Tyler before moving to Paynesville in 1977.

While working in Tyler for ten years, Johnson and his family lived in Ruthton, and Johnson served for six years on the local school board. Education, though, led the family to leave Ruthton and come to Paynesville. "The school system (in Ruthton) was getting so small we decided to move so the kids would have some electives when they got to high school," he explained.

Another reason why Johnson liked the move is that the work with cows in this area tended to be indoors in the winter, rather than on the cattle ranges in the Tyler area. He used to get cold working with beef cattle all day outside, "so I headed to the warm dairy barns of Stearns County," he said.

Johnson built the Paynesville Veterinary Clinic in 1977 and worked with large animals in a 20-mile radius of Paynesville. He also did some pet treatment at his clinic and acted as the city pound.

During his time in Paynesville, the number of farms with dairy cows and livestock has decreased. Johnson estimated that two-thirds of the dairy farms that he once visitied no longer have cows. In 1977, a typical day for him involved visiting eight to ten farms, each with 20 to 25 cows. In his last years, he would visit two to four farms a day to do preventative herd checks and monthly fertility checks.

Through the years, farmers have gotten more and more knowledgeable about animal health. Lots of farmers these days, for instance, are very good at calving, Johnson said. Meaning that middle of the night calving calls were made to him in later years only in cases of tough deliveries.

The worst job of a veterinarian, though, is putting a long-time family pet to sleep, even while being the voice of reason in telling a family that for old age or medical reasons it would be a favor to do it. "I think anyone in our business hates that," said Johnson of putting loved pets to sleep.

Owners often get emotional when it comes to putting a pet to sleep, and Johnson frequently told them: "If you don't feel that way about your pet, then you shouldn't have one." He sold his clinic in 1994 to the Cold Spring Veterinary Clinic, for whom he worked until retiring at the end of October.

Johnson served on the school board in Paynesville for nine years, served as a youth hockey coach for a dozen years, and served on the church council at Paynesville Lutheran Church. A two-time club champion who has the only known double eagle on the local course, he still serves on the board of directors for Koronis Hills Golf Club.

In retirement, Johnson hopes to finish a quest with his wife, Lois, to play golf in all 50 states. Todd and Lois, who retired last spring as a nurse practitioner, have played golf in 46 states so far, including Alaska, where the course had astroturf greens. They have four states to go: Kansas, New Mexico, Oklahoma, and Hawaii for the grand finale. "It's kind of a nice way to see the United States," he said. "It's sort of a nice goal. You could try to eat pizza in all 50 states. Whatever."

Since suffering a stroke a few years ago, Johnson has not taken his golf as seriously as he used to.

In addition to traveling and golfing, Johnson enjoys fishing, hunting (his dog used to travel with him all day on his veterinary rounds and they would go hunting for five minutes when they had a chance), and spending time with their four children and eight grandchildren.

An open house for Johnson will be held at the Paynesville Veterinary Clinic on Friday, Nov. 22, from 12 noon to 4 p.m.
---
Contact the author at editor@paynesvillepress.com • Return to News Menu
Home | Marketplace | Community
---