October marked the beginning of direct lab access at the Paynesville Area Health Care System (PAHCS). Now members of the public can order their own tests directly from the lab, without going through a doctor, and get confidential results that will not be part of their permanent medical records.

The service was implemented in response to multiple requests for common tests, said Pat Solum, director of laboratory services at PAHCS.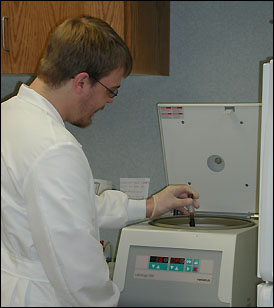 Practical applications range from simple curiosity to wellness screening. Through the 11 tests currently available, it's possible to test blood type or cholesterol levels; to determine pregnancy, to test for drug use, and to screen for indicators of anemia, diabetes, cardiovascular disease, and certain cancers.
Traditionally the protocol for laboratories only allowed tests to be run by a doctor's request. The doctor in turn couldn't order a test without sufficient indication that it's necessary. Direct lab access is a testing alternative for people who want to monitor their health outside of the methods normally available, said Solum.
Josh Williams, a medical lab tech at PAHCS, processes patient samples in a centrifuge. Some lab tests can now be ordered by patients.
The lab ensures confidential handling of both testing and results. Solum noted that though some of the same tests are offered at health fairs. "Direct lab access is a testing option that is performed in a certified laboratory with modern equipment," she said.
Clients are encouraged to share the information with their health care provider. References are also sent to help interpret individual results.
If the tests appear abnormal, judged by lab-established standards, a physician on staff will review them and either phone the client with further information or enclose an explanatory letter with the client's results. "This service provides another access to health care, but it doesn't replace your physician," she cautioned.
Because these tests are requested directly by the individual, not a physician, full payment is required in advance. Costs range from $10 to $70, a full list of fees and tests offered at PAHCS can be found here. Direct lab access is not eligible for Medical Assistance, Medicare, or insurance claims, and PAHCS will not send a bill. Minors must be accompanied by an adult.
Direct lab access is available Monday through Thursday, 7 a.m. to 7 p.m.; Fridays, 7 a.m. to 5 p.m.; and Saturdays, 8 a.m to noon at the main lab at PAHCS. Testing is also available at all PAHCS satellite clinics during their normal business hours.
---
Contact the author at editor@paynesvillepress.com • Return to News Menu
Home | Marketplace | Community
---