Veterans were remembered last week at area schools
This article submitted by Linda Stelling on 11/18/97.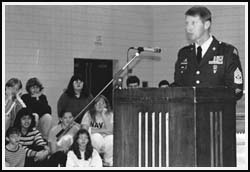 Command Sergeant Major Bob Bowden gave the Veteran's Day
message at the middle school last Wednesday.
Students in the Paynesville Area School District learned about the meaning of Veteranís Day through word and song Tuesday.
In the middle school, Bob Bowden, sixth grade teacher and Command Sgt. Major of the 88th Region Support Command, spoke to the students about Veteranís Day.
ďIt is a special day for veterans which originated after World War I, 1918. It commemorates the end of the war on the 11th hour of the 11th day of the 11th month. About 116,000 Americans died in that war and a day was set aside to remember them. Years later the name was changed from Armistice Day to Veteranís Day to remember all veterans who served our country,Ē Bowden told the students.
The middle school band and the seventh and eighth grade choir sang during the program.
At the high school, the choir sang a couple of numbers and the band performed patriotic songs. During one of the songs, director Ken Vork, read a story about Veteranís Day.
At the elementary school, Linda Jensen, Paynesville, talked to the students about freedom...the freedom to travel, free speech, voting, religion. She reminded the children about freedoms they have that children in other parts of the world donít.
Jensen had students holding up posters depicting different freedoms. Then she spoke to the students about the protectors of that freedom, our veterans.
The fourth and fifth graders also sang songs from their recent program.

---