Eighteen years after its first staging as a community production in Paynesville, The Best Christmas Pageant Ever is being produced again this year by a community theater group, based at the Paynesville Area Center.

A cast of 31 - plus two choirs adding another 26 people - will stage the musical three times at the school auditorium in the next week.

Performances of the play will be on Friday, Nov. 21, at 7 p.m.; on Saturday, Nov. 22, at 1:30 p.m.; and on Saturday, Nov. 22, at 7 p.m. Tickets are $5 for adults, $3 for students, and $12 per family, with seniors being able to come for $3 for the Saturday afternoon matinee performance.

Donations to the local foodshelf will also be accepted at the performances.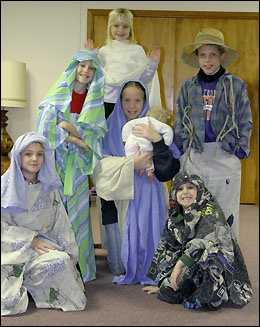 Lindsay Hull, who is directing the play and both choirs, was part of the community production of The Best Christmas Pageant Ever 18 years ago. Back then, it was done with an all-adult cast, said Hull.
This time, the cast and choirs include kids, adults, and seniors.
The idea to do a Christmas play came about when the Centrist Choir at the Paynesville Area Center was not organized for this year. They decided to try a play that would mix music and drama, Hull said.
Starring as the Herdman children in The Best Christmas Pageant Ever are: (clockwise from lower left) Jebb Davidson, Dan Christensen, Teirrah Syverston, Anthony Poepping, Joey Christensen, and Ariel Jones (center). Performances, in the school auditorium, will be staged on Friday night at 7 p.m., on Saturday afternoon at 1:30 p.m., and on Saturday night at 7 p.m.
While the original play included music, more music has been added, said Hull, to accommodate the role of the Senior Choir played by many former members of the Centrist Choir. Some Prelude Singers from Paynesville Area Elementary School will serve as the Junior Choir.
The play is a comical look at the annual Christmas pageant at a fictious church, which is nearly cancelled when the Herdman children join the cast. Amidst the comedy, though, the play touches on the true meaning of Christmas, said Hull, as it turns out to be the best Christmas pageant ever.
The musical will be done in two acts and should last around an hour and 20 minutes.
Tickets will be available at the door. Reservations can be made by calling the Paynesville Area Center at 320-243-4799.
Cast of Characters
The Members of the Family
Mother: Carolyn Lauer
Father: Ian Pelton
Beth: Lindsey Pelton
Charlie: Dylan Sheridan
The Herdmans
Leroy: Anthony Poepping
Gladys: Teirrah Syvertson
Imogene: Arial Jones
Ralph: Dan Christensen
Claude: Joey Christensen
Ollie: Jebb Davidson
The Church Ladies
Mrs. Armstrong: Sheila Merrill
Mrs. Slocum: Clarice Stumo
Mrs. McCarthy: Darlene Larson
Mrs. Clark: Becky Christensen
Mrs. Clausing: Linda Fisk
The Girls
Alice: Caitlin Lien
Maxine: Cahlean Klenke
Darleen: Carly Lemkuhl
Beverly: Allison Poepping
The Boys
Hobie: Spencer Syvertson
Elmer: Kellen Andersen
The Angels
Juanita: Ashley Gleitz
Shirley: Taylor Loesch
Doris: Randi Lemkuhl
The Church Staff
Rev. Hopkins: Pete Fisk
Organist: Maureen Pederson
Scripture Readers: Ashley Gleitz and Inez Jones
The Firemen
Richard Butler, Jim Paster, Dave Stumo
The Senior Choir
Myrt Barg, Betty Atkinson, Mike Dockendorf, Eileen Dockendorf
Jim Elseth, Darleen Glenz, Carol Heitke, Vivian Johnson
Bev Jones, Neal Jones, Juanita Moser, Phil Olson
Faye Paster, Dwight Peteler, Joyce Spaulding, Clarice Stumo
Dave Stumo, Carolyn Swyter, Larry Thielen, Don Torbenson
The Junior Choir
Mitchal Dahlke, Gabrielle Johnson, Samantha LaFrenz, Megan Ludwig
Reno Nichols, Brianna Soine, Jessica Solum, Dustin Thompson
Trista Thompson
The Backstage Crew
Director: Lindsay Hull
Stage Managers: Inez Jones
and Joyce Spaulding
Crew: Neal Jones, Ian Pelton, and Don Torbenson
---
Contact the author at editor@paynesvillepress.com • Return to News Menu
Home | Marketplace | Community
---