Medical student is working with and learning from Dr. Youngs
This article submitted by Linda Stelling on 11/17/98.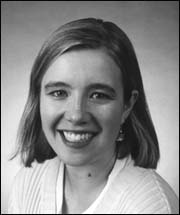 Erin Osborn, a third-year medical student at the University of Minnesota-Twin Cities, will spend the next nine months studying and working with Dr. Julie Youngs and her colleagues at the Paynesville Area Health Care System.

Osborn started her study in Paynesville on Nov. 2 through the Rural Physician Associate Program (RPAP). Her activities include making hospital rounds, assisting with surgery, delivering babies, emergency room care, as well as seeing patients at the clinic and nursing home duties.

Osborn was raised in Minnetonka and graduated from the University of Minnesota-Morris in 1996 with a bachelorís degree in biology. She has a minor in chemistry. In the fall of 1996, she started medical school at the U of M-Twin Cities campus.
Osborn said she has always been interested in becoming a physician. ďI enjoy talking and working with people. I didnít want to do lab work and I liked the idea of combining my science and clinic practice. By being a physician, I can help people work through their problems,Ē she said.

ďDuring the next nine months, I will be improving my clinic and diagnostic skills with Dr. Youngs and the other doctors at the clinic. The program will help me build confidence in my decision,Ē Osborn added.

The Rural Physician program will help her achieve one of her goals. It will allow her the opportunity to see if she wants to be a family practice doctor working in a rural community.

Osborn said she has enjoyed working with the people in Paynesville thus far and finds them really nice to work with.

She lists as her interests outdoor activities. Some of her interests include camping, tennis, biking and music. She enjoys playing the piano and clarinet for her own pleasure.

Osborn said she is looking forward to working with the other doctors and seeing patients of all ages.

Through the Rural Physician program, the students are provided a computer workstation with Internet access allowing communication with the other 35 RPAP communities, Fairview University Medical Center as well as the BioMedical Library.
---