Head Start adds a second class
This article submitted by Michael Jacobson on 11/17/99.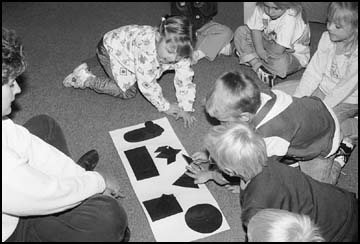 The goal of the program is exactly what the name says: Head Start. It aims to develop academic and social skills in children between the ages of three and five years old.

"Our main goal," said Mary Mackedanz, who teaches the local classes with Jill Eickhoff, "is to provide a family-orientated, educational, pre-school experience. We're getting them ready for kindergarten."

Head Start instructor Mary Mackedanz (left) directs a shape game with the new Head Start group: (from top) Alyssa Mackedanz, Robert Wernisch Jr, and Donald Jennings Jr.

For toddlers in the Head Start program in Paynesville, each school day starts with breakfast at the elementary school followed by group activities and self-directed learning at the Head Start center, which is located on the north side of Mill Street, east of the elementary school.

Demand for the local Head Start program was so high this fall that a second session has been added each week. "We had a waiting list of seven almost from the...start of the school year," said Mackedanz. Class size is limited to ten students, yielding a student-to-teacher ratio of five to one.

Since 1993, one Head Start class has met in Paynesville on Wednesday and Friday mornings. The new class now meets on Tuesdays and Thursdays from 8:30 to 11:30 a.m.

It already has eight kids, so there are only two openings left.

Head Start operates mainly on federal funds, but with some help from the state. Our local program is coordinated by Reach-Up Incorporated, which operates Head Start programs in Stearns, Benton, and Sherburne counties.

Reach-Up Inc. can be reached toll free at 1-877-848-4912. The local Head Start office can be called at 320-243-7686.

The program in Paynesville is considered a combination, as it combines classroom learning with home visits. Kids attend class two mornings each week, and the teachers make two home visits per month to each child. Eickhoff and Mackedanz said parents are always welcome at the class sessions as well.

Kids learn through songs, games, and other activities. "We try to make it a fun atmosphere," said Mackedanz, "so they don't even know that they're learning and retaining."

The kids also are given exposure to new situations and can learn a lot socially. They learn not just from the teachers reminding them at breakfast to chew first and talk later or to walk back to their seat, but from each other. They have to learn to get along.

All these skills can prepare the kids for school. For the first time this year, the morning breakfast is being held in the elementary cafeteria, giving them exposure to their future school.

Eickhoff and Mackedanz said the program does exactly what the name says. "(The kids) are going to have a head start," Mackedanz said.

Head Start's schedule mimics those at our local school, with some minor deviations. This year, Head Start began on Sept. 1 and will end on May 23. The new session met for the first time on Oct. 26.

To be eligible for Head Start, a child's family must either meet income guidelines, the child must have a documented disability, or the child must be in a foster home. Unless the child has a documented disability, he or she must turn three before Sept. 1 to participate. Participation is limited to two years.

Those with a documented disability could start in the fall if they turn three during the school year. In this case, this child could participate in the program for three years.

Eickhoff and Mackedanz both said they love their jobs, raved about the positive feedback from parents, and both feel energized by their experience to go back to college to finish a four-year degree, with agency support.
---