Sight gags, slapstick comedy, and lots of laughs should be in store for audiences who attend "The Nerd" this weekend. The farce, being presented by the PAHS drama department, will be staged in the school auditorium on Friday, Nov. 19, and Saturday, Nov. 20, at 7:30 p.m.

"It's so silly," said director Jane Leitzman. "We've had some practices where we had trouble getting through reading the script because everyone was laughing."

The farce is set in Terre Haute, Ind., in 1981. Rick Steadman (played by Dugan Flanders) is the title character, who reenters the life of his long-lost friend William Cubbert (played by Peder Thompson), an architect. The entire comedy takes place in Cubbert's apartment.

Other characters in the play are Cubbert's girlfriend (played by Lauren Vaske), his boss (played by Harrison Fangmeier), his boss's wife (played by Lindsey Pelton), their son (played by Ralph Daby), and Terre Haute's drama critic (played by Shawn Reinke).

Since "The Nerd" references a scene from the play "Waiting for Gidot," the high school thespians will present a play-within-a-play, doing a explanatory scene from that play. Doing that scene from "Waiting for Gidot" not only explains the reference, Leitzman said, but it allows for additional cast parts, since "The Nerd" has a relatively small cast.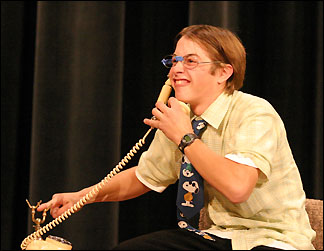 Normally, the middle school play is staged in the fall, and the high school play in the spring. But this year that has been switched, with the high school play now and the middle school play to come next spring. Holding the play now worked better for many of the students' schedules, said Leitzman, and it seemed they would have a better chance to get juniors and seniors to participate in the fall, rather than in the spring.

Dugan Flanders will star as Rick Steadman in "The Nerd," a comedic farce this weekend in the PAHS auditorium.

Also, they practiced this fall at night, instead of right after school. They had to work around cross county meets, and they also wanted to stage their production before the high school choirs go to Disney World for Thanksgiving.

In addition to the 12 cast members and Leitzman, Ken Vork is acting as the set and technical director, and Ashley Frank is helping as the student director.

The two-act play should last two hours with refreshments served during intermission. Admission is $5 for adults and $3 for students.

PAHS Play
The PAHS Drama Department will present The Nerd, by Larry Shue, on Friday, Nov. 19, and Saturday, Nov. 20, at 7:30 p.m. in the school auditorium. The drama production will also include a scene from Waiting for Gidot, as a play-within-the-play for explanatory purposes. Admission is $5 for adults and $3 for students.

Cast of Characters


The Nerd


Rick Steadman: Dugan Flanders
William Cubbert: Peder Thompson
Tansy McGinnis: Lauren Vaske
Axel Hammond: Shawn Reinke
Warnock Waldgrave: Harrison Fangmeier
Cleo Waldgrave: Lindsey Pelton
Thor Waldgrave: Ralph Daby

Waiting for Gidot
Stage Manager: Emily Mehr
Vladimir: Megan Reeck
Estragon: Natasha Fangmeier
Pozzo: Emily Mehr
Lucky: Katrina Daby
Boy: Krystle Schmidt
Director: Jane Leitzman
Set/Tech Director: Ken Vork
Student Director: Ashley Frank

---
Contact the author at editor@paynesvillepress.com • Return to News Menu
Home | Marketplace | Community
---