Last week, the Paynesville City Council approved a final plat for Diekmann Business Park Plat Three. The city has already agreed to sell the four-acre parcel to Paynesville SuperValu.

In October, the city approved a preliminary plat and a purchase agreement for the property with the Teal Group, owners of Paynesville SuperValu. The lot sale - for $219,542 plus assessments of $64,890 - should be finalized now that the final plat is done.

The lot is part of the clear zone for the old airport runway and the southern corner of the property is in the clear zone for the new runway. The lot is located along Highway 23 on the west end of Paynesville, across from Paynesville Area Middle School parking lot.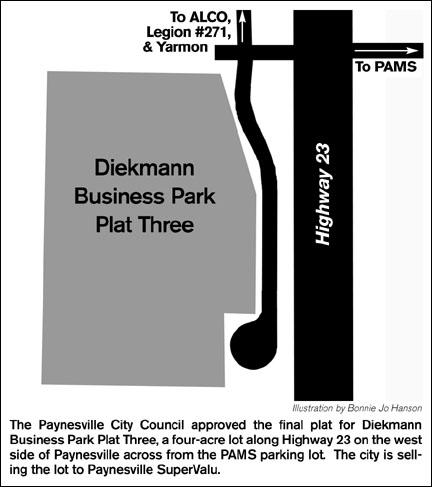 The appraised price for the property was 86¢ per sq. ft., but bidding between two parties drove the price up to $1.29 per sq. ft. Funds from the sale will go into the city's general fund, said city administrator Steve Helget.
According to Helget, the lot sits partially within the "no build" zone for the Paynesville Municipal Airport, but developers can still put a parking lot in that area.
With the approval of the final plat for the property during last week's city council meeting, the purchase is imminent, said Helget. He hopes to close on the property within the next few weeks, and SuperValu co-owner Roger Teal hopes to break ground for the new store as soon as possible in the spring.
SuperValu plans to build a 28,000-sq.-ft. store on the lot. It will be bigger, brighter, and offer more than their current downtown store, while keeping the same quality of service, according to co-owner Dave Nyberg.
The current SuperValu store in downtown Paynesville is around 12,000 sq. ft.
The new store could employ about 75 full- and part-time employees, including current staff of 30, who will all be moved to the new store, Nyberg added.
The new store will add a deli with hot and cold food and a seating area; an on-site bakery; and expanded frozen food, meat, fresh vegetable, and dairy sections.
In addition, Nyberg hopes to have lease space available for other on-site businesses.
Plans have been drawn for the new store and construction should begin as soon as soil is workable in the spring, hopefully March or April, said Teal. A mid-October date is the target for completion, according to Teal. Nyberg is more optimistic, though, he hopes the store will be finished by late summer.
---
Contact the author at editor@paynesvillepress.com • Return to News Menu
Home | Marketplace | Community
---