"Earn this."

That's the line that Tom Hanks' character utters while dying on a bridge at the end of the World War II movie, "Saving Private Ryan."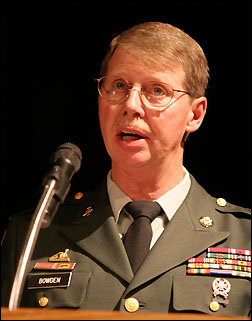 Vietnam veteran Bob Bowden (at right), a retired reservist and middle school teacher, used this line to evoke the meaning of Veteran's Day while speaking at programs at Paynesville Area High School and Paynesville Area Middle School last week. "Meaning don't waste what has been given to you. That's a wish shared by all veterans," he said at the Veteran's Day programs on Friday, Nov. 11.
Students can show respect for the freedom provided by America's veterans by valuing their rights, Bowden explained in his keynote talk. Having a third of the country vote in elections is "a slap in the face of veterans," said Bowden. So is wasting your life by using drugs, he added. Americans have all been blessed to be born in a special country where "the only thing that will hold you back is how hard you're willing to work," he said.
"All of us have received an invaluable gift: freedom. And veterans gave us this gift," explained Bowden. Americans enjoy the freedom to pursue education, to choose their occupation, to travel, to live wherever they choose, and most importantly to speak their mind.
But freedom, rights, and liberty, said Bowden, are just words without veterans. These freedoms take "young men and women who say, 'This I will defend,' " by serving in the armed forces.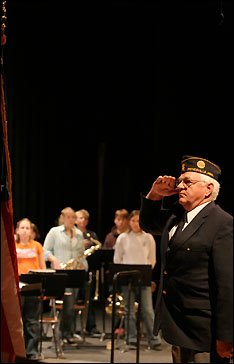 Veteran's Day, said post commander Larry Alstead at the annual dinner at the American Legion, is a day to honor all living veterans, all who fought, not just those who died, like Memorial Day.
Two words - "Thank you" - mean a lot to veterans, said Alstead.
Legion member Dave Brinkman salutes the flag at the middle school Veteran's Day program Friday afternoon.
The school programs included the color guard, recitations of the Pledge of Allegiance, the national anthem (played by the respective band), patriotic songs by the respective choirs, and a multimedia presentation of recent PAHS grads and other active military members related to current PAHS student body and staff. (At the elementary school, second graders gave a public performance of their patriotic program on Thursday, Nov. 10, and then gave that program again on Friday, Nov. 11, to the students and staff at PAES.)
Bowden, who had spoken two years ago at the PAMS Veteran's Day program, repeated the history of Veteran's Day, which started as Armistice Day after World War I ended on the 11th hour of the 11th day of the 11th month in 1918. In 1954, Congress changed Armistice Day to Veteran's Day to honor all soldiers who served in war and peace.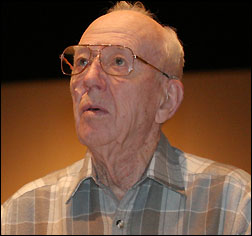 Bowden admitted that this is a scary time, full of uncertainties, with the war on terrorism and the war in Iraq. But Americans have survived uncertain times befores, he stressed, citing the American Revolution, the American Civil War, World War I, the Great Depression, and World War II as examples.
Duane Bluhm was one of the WWII veterans to be recognized at the school programs on Veteran's Day.
With this being the 60th year since the ending of World War II, Bowden asked surviving World War II vets to stand and called them "real heroes."
The American Revolution and the forming of the U.S. Constititution were uncertain times, too, he said, though they may seem so certain now that they are 200 years old.
Bowden also acknowledged that the war in Iraq is a controversial topic and uncertain at present. He defended the right to protest against wars as a key freedom for Americans but asked that students do it responsibly and seriously, and not just as an outing or an excuse to get out of class.
"All I ask is you put some thought into your actions," he said, as anti-war demonstrations are watched by our soldiers and by our enemies.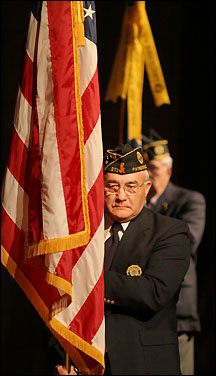 And don't treat current soldiers like anti-war protesters treated Vietnam veterans, he said. Bowden was drafted in March 1969 and spent a year with sentry dog company in the central highlands of Vietnam. When he returned home, demonstrators threw garbage and shouted obsenities at their bus on the way back from the airport, he recounted.
Legion color guard members Joe Kremer and Larry Alstead bring the flags onstage for the high school Veteran's Day program Friday afternoon.
"Don't treat veterans the way we were treated," he said. "Soldiers don't make policies. They're there because their country sent them."
Bowden - who served for 30 years in the Army Reserves, rising to the rank of Command Sergeant Major, and being the top noncommissioned officer in the 88th Regional Support Command, which includes 27,000 soldiers in six states - said he takes the most pride in a simple title that he shares with millions. "I was a soldier," he said. "I am a veteran."
From the Minutemen who started the American Revolution at Concord to men and women currently serving in Iraq, America's veterans "gave up all of their tomorrows for your tomorrow," he said.
---
Contact the author at editor@paynesvillepress.com • Return to News Menu
Home | Marketplace | Community
---