Nineteen PAHS thespians staged a mystery/comedy, "Be My Ghost" by Tim Kelly, last weekend in the school auditorium.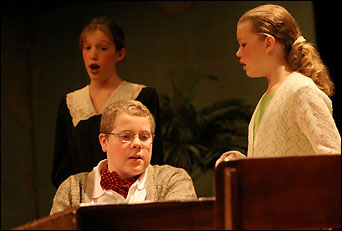 The play centered around a young writer, George Travis (Kellen Anderson), who aspires to be the next Stephen King but is suffering from writer's block. He travels to New Hampshire to marry his sweetheart, Betty Fisher (Rachel McCloud). There, the couple spent an evening in the Black Raven Inn, which Anderson's character is set to inherit from his eccentric, deceased aunt. But all was not as it seemed.
George Travis (Kellen Andersen, center) played a promising author with writer's block who was brought to a spooky inn in New Hampshire by his aunt (Kristine Hoeft, left) and his fiancee (Rachel McCloud, right) to inspire his creativity.
Among the unusual guests at the inn were an Egyptian mummy (Austin Mackedanz); a bank robber (Dustin Thompson); a maid posing as a ghost (Katie Schwalbe); and the real ghost of Mercy Appleton (Chelsea Klein).
The housekeeper (Kristine Hoeft) was apparently murdered, prompting a who-done-it mystery.
But, in the end, the whole affair - except for the real ghost - was arranged by Travis' fiancée, his agent (Tiffany Krupke), and by the housekeeper, who is really Travis's aunt and who runs a summer theater, not an inn.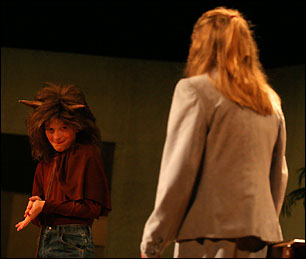 Billy (Matthew Anderson) - a wild teenager, supposedly part werewolf - scared a visitor to the Black Raven inn in "Be My Guest."
Cast of Characters:
Billy: Matthew Anderson
Mrs. Shrivel: Kristine Hoeft
George Travis: Kellen Andersen
Betty Fisher: Rachel McCloud
Paulette: Katie Schwalbe
Dorothy Crumb: Ellen Kane
Minerva: Dayna Holtz
Zola Lewellyn: Tiffany Krupke
Paul Conrad: Connor Hacklander
Almira Conrad: Chelsea Grandstrand
Cabdriver: Austin Mackedanz
Mercy Appleton: Chelsea Klein
Kay Crandall: McKenna Evans
Stonewall Dunn: Dustin Thompson
Sheriff Sanford: Jeb Davidson
Countess Starlight: Amelia Malling
Rootin'-Tootin': Austin Mackedanz
Anastasia Wiggins: Paige Schmitt
Miss Frost: Trista Thompson
Peggy Cowl: Samantha Uchytil
Charlie Sutton: Dustin Thompson
Lily Carroll: Paige Schmitt
Directors: Jane Leitzman and Ian Pelton
Set Design: Ian Pelton
Sound and Lights: Mike Putzke, Jeremy Schmidt, and Garrett Thompson
Stage Manager: Karla Leitzman
Artist: Kim Person
Construction: Justin Demo, Ben Moser, Josh Reinke, and Joseph Walz
---
Contact the author at editor@paynesvillepress.com • Return to News Menu
Home | Marketplace | Community
---