Aloys "Pete" Hoppe was named the Legionaire of the Year, during the annual Veteran's Day lunch at the Paynesville American Legion last week. Since Veteran's Day actually was Saturday, Nov. 11, the lunch and award ceremony were held on Friday at the Legion.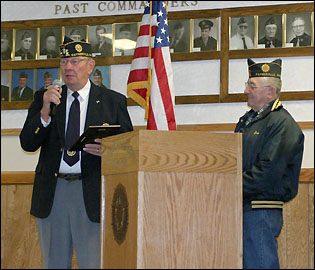 Hoppe is the second Legion member to receive the Legionaire of the Year, being given his award by last year's winner, Ermin Albrecht.
Upon receiving the award, Hoppe modestly offered that there are a lot of Legion members who deserve the honors as much as he does.
Hoppe served in the Army for two years, from 1952-54, including 15 months in Korea, where he served as a military policeman.
Peter Hoppe received the legionaire of the Year for Paynesville Post #271 on Friday, after the annual Veteran's Day lunch. He received his award from Ermin Albrecht, right, the first Legionaire of the Year last year.
He joined the Paynesville Legion in 1968 and has served in a variety of capacities. He has served as post commander five years (1976, 1977, 1983, 1984, and 1993), as well as other offices.
For the past 20-plus years, he has been the membership director, which post commander Larry Alstead called an "enormous and time-consuming job." For 28 years, the Paynesville post has recorded a new all-time membership high, said Alstead.
"It's 29 (years)," revised Hoppe, "because he got an all-time high today." "It's just something that I appreciate, and I enjoy doing it, and it needs to be done," he said of his membership work.
Hoppe also volunteers at various Legion functions: breakfasts, parades, color guard appearances, and patriotic programs. He even calls Minnesota from McAllen, Tex., to check on happenings from his winter home. "Anything that happens here, I usually volunteer for," said Hoppe.
Hoppe worked for Northern States Power Company for 38 years, retiring in 1992. "One you can count on," said Alstead about Hoppe. "If he says yes, he means yes."
Hoppe was also the commander for the Western Sterns County Council and a vice commander for the state south subdistrict for two years.
In his acceptance speech, he said, "This is definitely a great honor. I didn't expect it."
Hoppe also thanked the Legionaires who have gone before him. "Keep up the good work," he offered. "If you know anyone who would like to join this organization, the Legion needs the numbers."
---
Contact the author at editor@paynesvillepress.com • Return to News Menu
Home | Marketplace | Community
---