Allowing on-sale liquor sales on Sunday finally passed in the city of Paynesville, prevailing 530-456 at the polls last week in its fourth try.

The measure, required to be passed by a city referendum, will allow on-sale liquor (liquor consumed on location at a bar or restaurant) to be sold in the city on Sundays. (State law still prohibits off-sale liquor - liquor to be consumed elsewhere, such as from a liquor store, to be sold on Sundays.)

The measure had failed three times in the past six years in the city. In November 2000, at a general election, it failed 534-508. In July 2001, at a special election, it failed 262-184. And in February 2004, again at a special election, it failed 181-160.

According to city administrator Renee Eckerly, the Paynesville City Council still needs to adopt this as an ordinance change. Establishments wishing to sell on-sale liquor on Sundays will also need to get a separate license from the city, with an annual fee of $200 or less.

On-sale liquor sales could start in the city by the end of the month or certainly in December, said Eckerly. On-sale liquor sales have been allowed in Paynesville Township since 1973, when the measure was approved by township voters 95-84.


Another ballot measure on last week's ballot asked city residents in St. Martin if they wanted a single garbage hauler for the city. Instead of having three waste haulers come to the city, resulting in garbage pick-up on several days, this would have limited the traffic to a single day.

It failed by a vote of 79-39.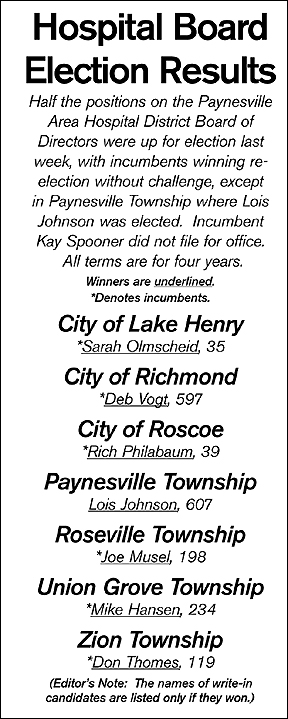 Other city elections and seats for the Paynesville Area Hospital District Board of Directors were uncontested.
In the city of Paynesville, Mayor Jeff Thompson was re-elected, as was councilor Jean Soine. Gene Beavers, a physician's assistant at the Paynesville Area Health Care System, was elected to the council, replacing Dennis Zimmerman, who did not file for re-election.
Incumbents were re-elected in the cities of Lake Henry (councilors Dan Liebl and Dennis Roos), Regal (Mayor Jack Kotten and councilors Sue Brauchler and Janet Fleck), and St. Martin (Mayor James Rothstein and councilors Robert Schmitz and Carol Thelen).

In Roscoe, which had no filings, Mayor Don Heinen was the leading vote-getter again, and incumbent councilor Sylvester Ludwig was the leading vote-getter for the council with Don Mackedanz the second leading vote-getter for council.
These mayors will serve two-year terms, while the councilors will serve four-year terms.
For the hospital district, seven candidates (including six incumbents) were elected to four-year terms. The only change in representation occurred in Paynesville Township, where Lois Johnson, a retired nurse practitioner, was elected to replace Kay Spooner, who did not file for re-election.
Incumbents were re-elected in the city of Lake Henry (Sarah Olmscheid); the city of Richmond (Deb Vogt); the city of Roscoe (Rich Philabaum); Roseville Township (Joe Musel); Union Grove Township (Mike Hansen); and Zion Township (Don Thomes).
---
Contact the author at editor@paynesvillepress.com • Return to News Menu
Home | Marketplace | Community
---