Veteran's Day observed with programs
This article submitted by Linda Stelling on 11/15/00.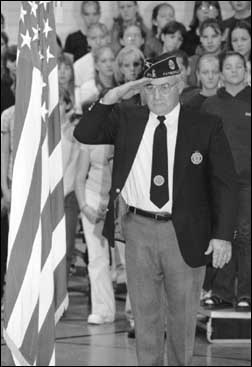 Students at the Paynesville Area High School and Middle School paid tribute to veterans on Friday with short programs.

Milt Koshiol, Joe Kremer, and Ermin Albrecht, members of the Paynesville American Legion Color Guard, presented the colors during both programs.

At right: Legion color guard member Joe Kremer salutes the flag as part of posting the colors at the high school Veteran's Day program.

Retired Command Sergeant Major Robert Bowden spoke at the Veteran's Day program in the middle school which was held at noon. He gave a brief history of Veteran's Day, explaining it was first called Armistice Day on Nov. 11, 1918. The name was later changed to honor all veterans.

"We are here today in a safe environment, enjoying the freedom of speech, freedom to listen, and free to make our own opinions," Bowden stressed.

"That freedom is not free. Someone bought and paid for that freedom. Veterans paid for your freedom," he added.

Bowden stressed that the country counted on veterans to save liberty, to put their lives on the line for their beliefs even before there was a constitution.

During World War II, there were 16 million men and women who served in the armed forces. About 400,000 soldiers lost their lives. Time is catching up with the World War II veterans. We are losing about 1,000 veterans per day, Bowden said.

"Our country would not exist without the sacrifices of veterans. They are ordinary citizens who postponed their private lives and put their energy into becoming soldiers," Bowden said.

Veterans of World War I and II came home to marching bands. That wasn't the case for all veterans. The veterans of Korea and Vietnam faced indifference and hostility. Vietnam veterans were met by protestors who threw garbage at their buses. All veterans deserve to be respected for giving of their time to their country, Bowden said.

Also taking part in the middle school program were the seventh and eighth grade choir and band. They performed "Military Escort" and "Freedom Song."

At the high school program in the morning, Marty Lieser, Legion Boys Stater, read the history of Veteran's Day. Steph Krupke read "Thanks to Veterans," Ginni Lahr read a short history on the national anthem, and Crystal Humbert read a message from President Clinton.

Joy Hemmesch read a history of the United States Flag that emphasized it's a reminder that service is worthwhile. "The flag represents a loving country," she read.

The high school band performed "Star Spangled Banner," "Armed Forces Salute," and "America."

The band and the high school choir joined their talents to perform "God Bless America."

On Saturday, the Paynesville American Legion served a noon meal to area veterans and their spouses. Janell Hoffman and Larry Alstead took part in a short program.
---