As nation awaits Florida results, local tallies are in
This article submitted by Michael Jacobson on 11/15/00.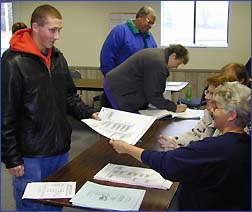 A week after voters went to the polls across the country, the next President of the United States is still in doubt.

In the closest election in years, perhaps in the history of the nation, with several states decided by hundreds or thousands of votes, the fate of the future presidency for either Vice President Al Gore or Texas Governor George W. Bush seems to rest with the 25 electoral votes of Florida.

Mark Brossard was a first time voter at the Paynesville Township voting site.

In the Sunshine State, votes have been counted and recounted, and now are being counted by hand. Deadlines loom as a nation accustomed to instant returns has been forced to wait a week without learning the results of the election.

The courts have already become involved and may have more involvement before the next president is settled. While the drama in Florida has unfolded, a crash course in civics has ensued, as the intricacies of the electoral college system are revealed.

This election has also spurred debate about the merits of the electoral college system, the role of the media in elections, and the mechanics of our democracy.

While the nation waits for a decision on the most prominent national position, results from Minnesota are in.

Minnesota goes to Gore
Despite a local preference for Bush, Minnesota's 10 electoral votes will go to Gore, who carried the state with 1,152,595 votes to 1,086,779 for Bush. That is roughly 48 percent for Gore to 45 percent for Bush.

Voters in the Paynesville area favored the Republican ticket of Bush and Dick Cheney to the Democratic duo of Gore and Lieberman. In five local cities– Paynesville, Lake Henry, Regal, Roscoe, and St. Martin – and ten townships, Bush- Cheney garnered 3,103 votes to 1,809 for Gore-Lieberman.

Bush got 58 percent of the local votes to 34 percent for Gore.

Green party candidate Ralph Nader did slightly better in Minnesota than he did nationally, with 124,940 votes, or five percent of the total. He got about five percent of the local votes, too, with 256 in the area.

Pat Buchanan of Reform Minnesota did slightly better locally than in the state. Statewide he got 21,417 votes, or one percent of the total. But locally he got 135 votes, or two and a half percent.

Voter turnout in Minnesota was 69.4 percent.

Grams, Minge unseated
Paynesville voters will have new faces representing them in the United States Senate and House.

Incumbent Republican Senator Rod Grams and incumbent Democratic Representative David Minge were both defeated in their bids for re-election.

DFLer Mark Dayton defeated Grams 1,164,011 to 1,027,223, taking 49 percent of the vote to 43 percent for Grams.

A recount has been requested by Minge in the United States House District 2, which encompasses the southwestern corner of the state, including the city of Paynesville, Paynesville Township, and Meeker and Kandiyohi counties. Republican Mark Kennedy of Watertown has apparently unseated the four-term Congressman from Montevideo by a margin of 150 votes. Kennedy received 138,939 votes in the district, with Minge getting 138,789, according to results from the Minnesota Secretary of State. In a razor-thin margin, Kennedy polled 48.098 percent, and Minge totaled 48.046 percent. The percentage difference was a mere half of one-tenth of a percent.

Cities and townships north of Paynesville are in the Seventh Congressional District, where Collin Peterson of the DFL won a sixth term in Congress. Peterson easily defeated Republican challenger Glen Menze of Starbuck 185,771 to 79,175.

City results
The most heated local races occurred in races for the Minnesota Senate and House and in a referendum on serving liquor on Sundays in the city of Paynesville. (See separate stories.)

In local cities, most incumbents prevailed. There were no formal races, and the only contests were in seats with no declared candidates.

In Lake Henry, Pat Welle and Dale Olmscheid were elected to the city council through write-in votes. Welle received 29 votes and Olmscheid had 25. There were ten other write-in votes.

Lake Henry will also have a new mayor, as declared candidate Rick Peterson won that seat with 37 votes.

In Roscoe, a council seat was also determined by write-in votes. Incumbent council member Mike Christian won re-election with 45 votes, and Don Albrecht will fill the other open seat. Albrecht received nine write-in votes, to win the seat. Rich Philabaum received three write-in votes and Sylvester Ludwig got two.

Don Heinen was re-elected mayor of Roscoe with 50 votes.

Voters in Paynesville, Regal, and St. Martin re-elected sitting mayors and council members. In Paynesville Jeff Thompson won another two-year term as mayor and Harlan Beek and Dave Peschong won four-year seats on the council.

In Regal, Mike Braun will serve another two-year term as mayor and Marlin Pauly and Jim Halverson will serve another four-year term as council members. Sue Brauchler, who was appointed to the council this year, was elected to a two-year term on the council.

In St. Martin, incumbent mayor Joe Kalthoff and incumbent council members Otto Kaschmitter and Steve Revermann won re-election to two- and four-year terms respectively.

County commissioners
Rose Arnold won re-election to represent District 3 in Stearns County, defeating challenger Fred Holthaus 7,129 votes to 5,692.

In Meeker County, Hugh Wagner defeated Frank Marshall to win the open seat in District 4. Wagner got 1,176 votes to 728 for Marshall.

In Kandiyohi County, Dennis Peterson won re-election in District 4 with no opposition.

Hospital board
All the incumbents to the Paynesville Area Hospital Board of Directors were re-elected against no formal opposition. Serving four-year terms will be Don Anderson for the city of Paynesville; Doug Ruhland for Eden Valley; Bob Brauchler for Regal; Rich Philabaum for Roscoe; Diane Rothstein for St. Martin; and Carolyn Swyter as the member at large.

Vickie Ruegemer was elected to a two-year term to represent the city of Richmond.

Due to a polling place mishap, voters in Union Grove Township did not receive their ballots to vote for the member at large. Since Swyter won with 2,234 votes, the mishap did not influence the result.

Mock elections
Mock elections in all three Paynesville schools also indicated a preference for Texas Governor George W. Bush in the presidential race.

In the high school, in voting conducted by the government class, Bush got 96 of 140 votes, or 69 percent. Nader beat Gore for second with 22 votes to 15 for the vice president.

In the middle school, 298 students voted and 237, or 80 percent, picked Bush. Gore was second with 42 votes (14 percent).

In the elementary school, 82 percent preferred Bush and 18 percent liked Gore.
---