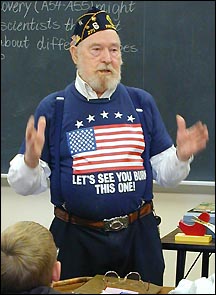 In the face of the terrorist attacks on Sept. 11 and the war being waged from the air in Afghanistan, students at Paynesville Area Middle School heard patriotic messages from area veterans last week.

Veterans were brought in to speak during PrimeTime periods at the middle school last week in preparation for Veteran's Day. All three schools held programs on Monday as well to honor those Americans who have served the country in war.

Bud Blake (at left), who served in Africa during World War II, encouraged the students to be brave in this time of terrorism. "Go about and do what you like to do. There is no need to worry as soldiers are fighting to keep this country safe," he said.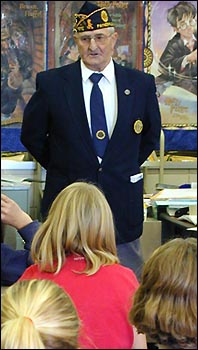 "We have freedom today because of the men and women who served in the military," said Larry Alstead, the Legion Commander and the guest speaker at the high school program on Monday morning. "They earned a special distinction; they are called veterans. They gave up so much of their lives so we can have freedom."
Alstead also spoke to middle school students last week, as did Blake, Bob Bowden, Pete Hoppe, Don Jensen, Joe Kremer (below left), and Carl Wagner (at right).
"You can't tell a veteran by looking at a person. They wear no badge or emblem," Alstead stressed. "The veteran might be the cop on the beat, the barroom loudmouth, or the old guy bagging groceries. They are ordinary people who offered their most vital years in the service of their country."
Alstead said the recent terrorist attacks made him think of his country. "As a veteran, I always think about the flag," he said.
Blake said today he turns off war shows on television because he is stressed out from fighting. He said fear can ruin a person. "I hope and pray that you young people will never have to go into combat," he told the students.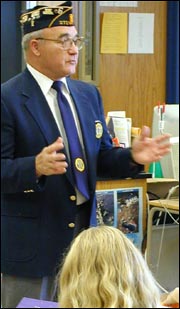 During combat, Blake said, he was afraid, jumping from shell hole to shell hole for protection. "...but I knew I had to do it so my grandchildren would not have to go to war," Blake told the students.
In other activities related to Veteran's Day, the second graders presented a program about freedom on Friday. Three members of the color guard took part in the program, which was attended briefly by Lt. Gov. Mae Schunk. (See pictures on page 7.)
On Monday morning, the high school program included the boy and girl staters and their alternates: Scott Buermann, Jen Bruntlett, Craig Thomes, and Becky Schauman; the high school band and choir; and the American Legion Color Guard. Alstead was the guest speaker.
For the middle school program, the school choirs and band performed. The elementary school featured a repeat performance of the second graders' freedom program.
---
Contact the author at paypress@lkdllink.net • Return to News Menu
Home | Marketplace | Community
---