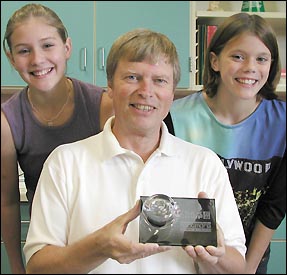 For Scott George, who has spent 28 years as a teacher, being in a classroom never felt so good.

George has taught at the Paynesville Area Middle School for the past 22 years, but missed most of the first month of school this year after he was diagnosed with cancer. He got back into his classroom in October.

Now, in November, he received a Crystal Apple Award from Alexandria Technical College and KSAX/KRWF-TV in Alexandria. The award recognizes teachers who have made a significant and special difference in the lives of students, said a spokesperson for the awards.

George was nominated for the award by two seventh grade students - Ellary Prentice (left) and Cassie Liebl (right) - who are his math pupils for the second straight year. George taught sixth grade math for 21 years in Paynesville before switching to seventh grade this year, as a result of staffing changes due to the budget cuts that took effect this fall.

George also taught six years in Wabasso before moving here.

A camera crew from the technical college; George's wife, Linda; and the parents of Ellary and Cassie showed up in George's classroom on Tuesday, Nov. 6, to present him the award. By chance, Ellary and Cassie have math class together with George. "They just came in with the camera rolling," George explained. "The kids didn't even know, except for Cassie and Ellary."

"When they came in, I hid on the floor to get away from the camera," added George. "The kids told me that I had to get up."

"He recovered," said Cassie. "He taught again." Added Ellary: "He was in shock for a little bit,"

Cassie has known George for more than two years, having attended his wife's daycare before becoming his student. She learned of the award in her sister's elementary school newsletter.

Ellary learned of the award while watching television. She likes George because he is easygoing. "He's not as fussy as the other teachers," said Ellary. "With him you're not afraid to ask a question."

Ellary and Cassie sent separate nominations - with help from their mothers - to the television station. The double nomination helped him win the award, said George.

The toughest part for Ellary was keeping the award a secret. She said her mother had to threaten to ground her to keep her quiet. "It was really hard the last week not to mention it to anyone," she said.

George received a Crystal Apple Award for his desk, and a television spot of him in the classroom will air on KSAX-TV starting on Thursday, Nov. 15, and continue running for the next month.

"With all the other stuff going on in my life, I'm finding out some of the impact I've had," said George. He underwent radiation treatment after learning that what he thought was a pinched nerve was really cancer. He continues to take a daily hormone as a type of chemotherapy.

The level of toxins in his body has decreased to normal levels, a sign, he hopes, that the cancer is in remission and that he'll be able to stay in a classroom. "Eventually," he knows, "the cancer is going to kick up again."

"This kind of made my year," said George of his award. "With all the troubles I've had in my life lately, it couldn't have come at a better time. It was an emotional high."
---
Contact the author at paypress@lkdllink.net • Return to News Menu
Home | Marketplace | Community
---