Former mayor Joe Voss was presented with an award from the League of Minnesota Human Rights Commissions in late September.

Voss received the award for his part in organizing the community's Festival of Ethnic Traditions, a day-long event that celebrates different cultures through music, food, and dance.

"The ethnic festival was all Joe's thing," said current city council member Jean Soine, who is also a member of the Human Rights Commission. "The idea was his, he planned it, and he set it in motion."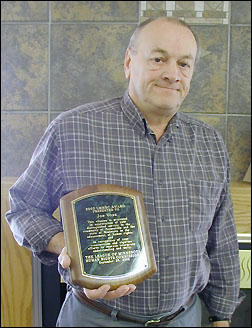 The ethnic festival, said Voss, was a way to reach out to adults as well as children and to show them that different doesn't necessarily mean bad. He modeled the ethnic festival after a similar festival in Pelican Rapids, a town with fewer than 3,000 residents where over 20 different languages are spoken.
Joe Voss was honored by the League of Minnesota Human Rights Commissions for his role in starting Paynesville's ethnic festival.
"The reaction to the festival has been good," said Voss. "The last two festivals were successful, in spite of inclement weather."
Soine thinks Voss's award is incredible. "I was flabbergasted that a town the size of Paynesville would get this recognition. Joe deserves this award. I only wish he had told the commission about it so we could have been there when he got it," she said.
Voss is also responsible for starting the city's human rights commission, which he did about seven years ago while mayor, after hearing from city leaders in other communities about the problems their residents had adjusting to an ethnically-diverse community. "We didn't have a lot of diversity then, but I knew that the city would grow and become more diverse," he said. "We decided we had to be proactive."
In the beginning, the commission focused on the rights of the disabled and how the law applied to them. It helped local businesses come into compliance with the Americans With Disabilities Act and it taught children the issues and challenges that affect the handicapped, said Voss.
Voss grew up in Pierz, a town that was 99.9 percent Catholic at the time, he said. He remembers when a Lutheran man moved into town. As a kid, he didn't know how to react to a person that was different, he said.
Partially because of that experience, Voss thinks it's necessary to reach out to kids, before they develop an attitude of intolerance. "It's important to teach kids because it's sometimes hard to reach adults," he said.
The commission has held programs at the elementary school, and every year it sponsors an essay contest for older kids with topics like bullying and handling racial differences in their neighborhoods.
Voss claims that he hasn't done anything out of the ordinary to deserve an award, that he was just doing his job, first as mayor and then as a member of the Paynesville Human Rights Commission.
Technically, Voss is retired, but he still puts in hours at Voss Heating and Plumbing and on the commission he started. He is acting as chair of the commission now, but said it's not a position he can keep since he spends three months a year in Arizona.
The Human Rights Commission currently has seven regular members - Richard Koehn, Sig Piefer, Jean Soine, Donna Toney, Maria Thompson, Howard Caldwell, and Voss - and three student members - Sara Boeck, Hannah Felling, and Maureen Flanders.
The Minnesota League of Human Rights Commissions, the group that honored Voss in late September, is an organization made up of human rights commissions from cities all over the state. Voss was one of three people honored with awards by the state group.
---
Contact the author at reporter@paynesvillepress.com • Return to News Menu
Home | Marketplace | Community
---