Karen Odberg - who has taught at Paynesville Area High School since 1975 - was chosen this year by her teaching colleagues as Paynesville's Teacher of the Year.

The local teacher's union recently took nominations and held voting with Odberg being named the Teacher of the Year at a ceremony last week.

While being honored with an award like Teacher of the Year is nice, said Odberg, the real reward is her students. "I wouldn't have stuck with teaching this long if I hadn't really enjoyed it," she said.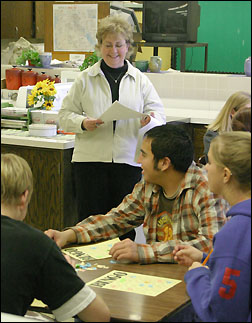 Watching students grow, seeing light bulbs go on in their heads, and challenging them is very rewarding, she said. "And, in turn, they're always teaching me something," she said. "Always."
Other finalists for Teacher of the Year were speech clinician Diane Miller-Gertken, media center specialist Joan Nevitt, elementary music teacher Charlene Strand, elementary physical education teacher Bill Virant, fifth grade teacher Barb Werlinger, and high school social science teacher Jeff Youngs.
Karen Odberg - reviewing for a test by playing Bingo with terms and their definitions last week in an adult living class - has taught in the Paynesville Area School District since 1975. She was chosen by her teaching colleagues last week as the district's Teacher of the Year.
Odberg, who was a local finalist for Teacher of the Year in 1996, was surprised to win the award, especially considering her competition. "When you look at all these people," she said about the other nominees, "I was amazed."
Deep down, Odberg always knew that she wanted to be a teacher, she said, but she resisted that calling at first. Her great-grandmother, grandmother, mother, and daughter are teachers, too. After growing up on a small-grain farm near New Folden, Minn., she attended North Dakota State University. "I finally decided that I would have to try (teaching) and see if I liked it," said Odberg. "And I did, and I never went back."
While she also liked English, Odberg decided to specialize in home economics, now called family consumer sciences. She joined the staff at PHS in the fall of 1975. She can teach 13 classes, including adult living, family life, foods, and parent-child development.
Most of her classes are electives for the students, and she has a mix of ages - though mostly grades 10-12 since they have more time for electives - and genders.
Odberg likes teaching family consumer science because it deals with everyday life. "This is just life," she said, "everyday living, everyday choices that we all make."
One of the biggest challenges for college students is not academics, she said, but living on their own and managing their time and money.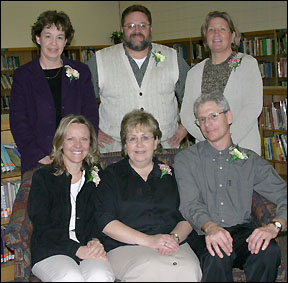 Her classes deal with more than cooking and sewing, with what insurance to have, how to manage money, how to manage time, and how the economy affects people, the importance of nutrition, and how to be smart consumers, she said.
Minnesota has always been a leader in teaching life skills in home economics, said Odberg, as reflected in its after-school counterpart, once known as Future Homemakers of America. That changed to Future Leaders of America (FLA) when Minnesota began to recognize that the organization needed to go beyond household skills. Minnesota was one of the first states to have competitions in FLA, said Odberg, breaking the stereotype that girls were not competitive.
Karen Odberg (front center) was named Teacher of the Year by the local teacher's union last week. Other finalists were (front) Diane Miller-Gertken and Bill Virant; (back) Barb Werlinger, Jeff Youngs, and Joan Nevitt. Not pictured is finalist Charlene Strand.
Odberg has had more regional leaders in FLA than she can count, including the first male region officer. Now, the national chapter has changed its name and FLA has become Family Career and Community Leaders of America (FCCLA).
In addition to her involvement with FLA/FCCLA, Odberg has been active in the teacher's union on the local and state level.
Last year, due to health reason, Odberg missed six months of school, returning for the second semester. During her recovery, getting back to her classroom was a source of motiviation for her. "That was my goal," she said, "to get back to teaching. That was the challenge Éto see how fast I could."
She plans to continue teaching as long as she enjoys her job and enjoys her students.
In her free time, Odberg said she never gets bored because life is not long enough. She likes to travel, meet new people, read, watch baseball, spend time with her husband Glen and their two granddaughters, and to do all the things she teaches - bake, cook, and sew - though she does not have enough time for this.
Odberg is the first Teacher of the Year in the local schools since high school English teacher Michelle Andersen was honored in 2001.
Other Teachers of the Year include: Cheryl Bungum (1996), Gary Haglund (1993), Dick Butler (1990), Carol Setterberg (1987), Marlys Sorenson (1983), Clarice Stumo (1980), Marie Garding (1977), Norm Tigner (1976), and Bob Jung (1970). Butler was a state finalist in 1980, and Stumo was the Minnesota Music Educator of the Year in 1990.
---
Contact the author at editor@paynesvillepress.com • Return to News Menu
Home | Marketplace | Community
---