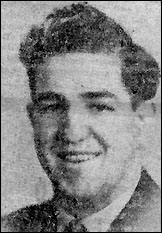 Sixty years ago, Paynesville learned that one of its native sons had died in a Japanese prisoner of war camp during World War II.

Today, hardly anyone is left in Paynesville who remembers Gerry Schwartz at all. And not much more is known about his military service.

Gerry Schwartz, a 1935 PHS graduate, died during World War II in a prisoner of war camp in Japan in September 1943.

One person who does remember Schwartz, who thinks about him each year at Memorial Day, is his first cousin, Jack Bugbee. Bugbee's father and Schwartz's mother were brother and sister.

In fact, R.F. Schwartz, Gerry's father, also known as Charley, came to Paynesville around 1900 to work in the drug store operated by Gerry's and Jack's grandfather. Charley Schwartz married Bertha Bugbee, also known as Bee because she was a beekeeper.

Gerry, who was born in 1917, graduated from Paynesville High School in 1935 and attended college at Augustana College for one year and at the University of Minnesota for two years.

He played football, basketball, and track in high school and loved sports. After school, he played baseball on the town team, bowled, shot trap, and played hockey.

The Schwartz family lived on Burr Street on what then was the west end of Paynesville, said Jack. Back then, a dam on the Crow River near the end of Burr Street (in what today is the Crow River Nature Park) flooded an area and produced a skating pond where they played hockey, said Jack, who is six years younger than his cousin.

Gerry also worked in Minneapolis for a time and in Indiana, where he had relatives, including his older brother, who worked at a steel plant.

Gerry joined the U.S. Marine Corps in May 1941, before the United States entered World War II. "I know when he joined the Marines his parents were proud as peacocks," said Jack.

Gerry trained in California and was shipped overseas to the Far East in August 1941. He was stationed at a U.S. naval base in the Philippines when Japan attacked the United States in December 1941.

What is known about the rest of Schwartz's life comes from a few Press stories. General history about World War II helps put the few dates that are known about Schwartz into some context.

The Japanese attacked Pearl Harbor on Dec. 7, 1941, and they started bombing Clark Field in the Philippines on Dec. 8, 1942, just hours later, as that country is a day ahead due to the International Date Line lying halfway across the Pacific Ocean.

Japanese troops landed in the Philippines on Dec. 10, 1942, and the U.S. and Filipino forces abandoned Manila by the end of the month. But the U.S. and Filipino forces fought for three months on the Bataan Peninsula, across Manila Bay from the Filipino capital city.

Charley and Bertha Schwartz received a letter from their son in February 1942 saying Gerry was not wounded and had left the navy base.

In April 1942, approximately 76,000 U.S. and Filipino troops surrendered on the Bataan Peninsula. Their march to a prison camp is known as the Bataan Death March. For those soldiers at the very tip of the peninsula, the march to the prison camp was some 65 miles.

According to John Toland, author of "The Rising Sun: The Decline and Fall of the Japanese Empire," 54,000 soldiers reached that prison camp, but it is not known how many soldiers escaped and how many died. Toland estimated that 7,000 to 10,000 died from malaria, starvation, beatings, and executions.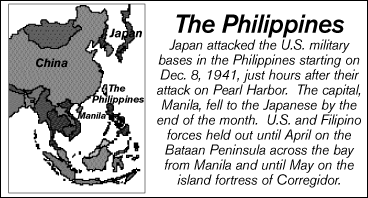 It is not known whether Schwartz was part of the Bataan Death March or not. His parents were not notified that he was missing until May 1942, when they received a telegram stating that their son, a private, "was performing his duty in the service of his country in the Manila Bay area when that section capitulated." At that time, the military had no record of him being injured or killed, and he was listed as missing in action, which could have meant that he had been captured.
Corregidor, the island fortress in Manila Bay where some U.S. soldiers retreated after Bataan fell, surrendered to the Japanese on May 6, 1942, just days before Schwartz's parents were notified that he was missing in action.
Gerry was listed as missing in action for ten months, until March 1943. "It was terrible on his parents," recalled Jack. "It devastated his parents and the whole family."
While Gerry was listed as missing, Jack remembers his Aunt Bee telling him that she could not sleep at night, worrying that something had happened to her son, that he was wounded or worse.
"After he'd been reported missing, she was terribly depressed. There was so much news of atrocities," recalled Jack. "This weighed very heavily on Aunt Bee, and Uncle Charley, too, I suppose, but he was a quiet man and had the store and his work."
In March 1943, Gerry's parents were notified by letter that their son had been captured by the Japanese and was a prisoner of war.
While the fall of Corregidor is closer to the date that Schwartz's parents were notified that their son was missing in action, it is not known exactly when or where he was captured.
Schwartz could have been on Bataan, participated in the Bataan Death March, and notification to the U.S. government and his family could just have been slow. Or he could have been on Bataan and escaped the Japanese initially and fought as a guerrilla while being listed as missing in action until being captured later. Or he could have been on Corregidor and been captured by the Japanese when it fell in May 1942.
His parents were informed in August 1943 by telegram that Gerry had been transported to Japan and was being held at the Osaka Prison Camp. A month later, word came that he had died at that prison camp. He is buried in Japan.
Gerry's only brother was killed in a car accident two years later, and his mother died in 1957. Charley Schwartz retired in 1961 after working as a druggist for 61 years in Paynesville and died in 1969.
Gerry's three siblings produced only one child, who also died young, according to Bugbee. "The whole family is gone," said Jack.
Much like the memories of the late Gerry Schwartz.
---
Contact the author at editor@paynesvillepress.com • Return to News Menu
Home | Marketplace | Community
---