Intern reporter works forPress
This article submitted by Michael Jacobson on 11/10/99.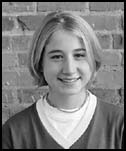 Erin Aagesen, a senior at Paynesville Area High School, has been working as an intern atThe Paynesville Presssince August. Her work first appeared in these pages as a sportswriter; she has covered the girls' cross country team for three seasons now.

As an intern, Aagesen will continue to cover sports teams from PAHS and will also write school features as well as other stories. Her interest in writing led to her working at the newspaper.

In addition to cross country, Aagesen participates in band, danceline, and track for PAHS. She is also a PALS mentor and a member of the National Honor Society.
---