Three Lions receive Melvin Jones Fellowship
This article submitted by Linda Stelling on 11/10/99.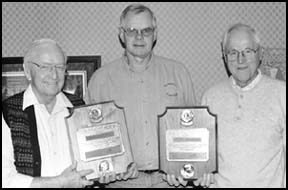 Three members of the Paynesville Area Lions Club were honored (at a recent meeting) when Don Hanson, LeRoy Hillbrand, and Peter Jacobson were named Melvin Jones Fellows.

The honor came as a complete surprise to all three men.

Pictured at right are (left to right): Don Hanson, Peter Jacobson, and LeRoy Hillbrand.

Founded in 1973, the Melvin Jones Fellowship honors Melvin Jones, the founder of Lions Clubs International. It is the highest form of recognition conferred by the foundation. The honor is given to those who have made significant contributions to Lions and the community. The objective of Lions is to encourage service minded people to serve the community without personal financial reward.

Paynesville has had 11 other Lions members receive the honor. They are: Ray and Connie Lindeman, Phil and Larraine Stewart, Ron Frauenshuh, Harry Schuelke, Russ Benson, Maurice Dosdall, Tom Given, Don Torbenson, and Joe Sawrey.

Hanson first joined Lions in 1948 and opted out during his term as mayor and rejoined at a later date. Hanson has been a building contractor all his life and the city building inspector for more than 20 years.

Due to poor health, Hanson retired in July of this year from his building inspector position for the cities of Glenwood, Spicer, New London, and Paynesville.

Hanson has been active in most all of the Lions functions over the years. "I'm readily available to do whatever is needed," Hanson said. He has either served as chairman or co-chairman at many of their fund raisers.

"The Lions is a good general service organization which is an asset to itself. The funds they raise go to help others around the nation, state, and locally in the community," Hanson said. "Their projects are quite worthy."

Hanson said, "Being a Lion enables you to socialize with people you don't ordinarily associate with. You only see many of these people at Lions functions. Lions consist of working people of all classes. We are all treated equally with no special distinctions."

LeRoy Hillbrand has been a Lions member for 35 years. He recalls being the local club president the year the Lions International started the eye clinic in partnership with the University of Minnesota. "The local Lions Club received an award because we donated more per member than the other clubs in the state," Hillbrand said.

When the eye clinic was dedicated, Hillbrand was the local delegate to the festivities. "It was real interesting as I had the opportunity to meet with people from Denmark and Finland," he said.

As a Lion, Hillbrand has traveled to Ecuador and Guatemala as part of the VOSH program to help hand out eyeglasses to those in need. "I enjoyed meeting with the Lions in the other countries and learning about their programs," Hillbrand added.

Like Hanson, Hillbrand has chaired or co-chaired about every committee over the years.

"We have had some very successful fund raisers. One of our challenges was how do you protect 100 bags of popcorn when you are caught in a rain shower at the Town and Country Days Parade," Hillbrand laughed.

Hillbrand wears his Lions pin and finds it is a great item to introduce him to new people. "I was traveling in Pennsylvania and met a man from Arkansas in an elevator. He asked about my pin and we started talking about Lionism," he added. "Wherever you travel, people recognize the Lions pin."

Hillbrand enjoys being a Lion because Lions are a part of a humanitarin organization. "The world is a little better place to live because we have a Lions Club and we do our share locally," he added.

Hillbrand is a retired agriculture teacher. He started the department in Paynesville 52 years ago. He also started the veterans ag department after World War II.

Hillbrand has also served on the mediation board for area farmers and helped develop private farm management plans. He has also served on the North Fork Crow River Watershed District Board for eight years.

Peter Jacobson has been a Lions member 29 years, first joining when he lived in Watertown and transferring his membership upon his move to Paynesville.

Jacobson has been the chairman of the basketball program playoff booklets about 12 years. He has also served on the board of directors.

"The Lions is a service group which serves humanity," Jacobson said. "It always gives people a good feeling being able to help others less fortunate. There are a lot of things we can do for individuals and the community," Jacobson said.

Jacobson has served as president of the Koronis Lake Association 10 years, is a former Jaycee member, former board member and president of the Minnesota Newspaper Association.

He is a member and forme president of the Paynesville Chamber of Commerce and secretary-treasurer of the Stearns County Publishers Association.

The Paynesville Lions spearheaded the Gazebo shelter, track fund, and downtown bathrooms. The Lions also helped purchased the new marching band trailer in cooperation with the Lake Henry Lions Club and St. Martin Lions Club.

One project the Lions enjoy is cleaning ditches. The Lions have adopted five miles of Highway 55, from Hill Top to past the Five-mile Bridge. Upon completion of their cleanup, they have a picnic at the roadside rest along Highway 55. In the early year, Lions used to clean up the several area lake accesses. The Lions also purchased land for a roadside rest along Highway 55 and donated it to the state of Minnesota.

Current projects of the Paynesville Lions Club are the World Service Day at the Paynesville Area Center, Youth Service Award, peace poster contest, Spinoza Bear. They also help serve the Thanksgiving dinner to seniors, help support Skills for Growing Program (Quest) at the Paynesville Area Elementary School, and collecting eyeglasses.

Fund raisers sponsored by the club include selling Christmas wreaths, selling basketball programs at district tournaments, serving chili and spaghetti suppers.
---