Lang, Janotta, receive Lions Youth Service Award
This article submitted by Linda Stelling on 11/10/99.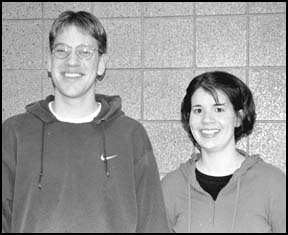 The Paynesville Lions Club has named Anne Janotta (at far right) and Ryan Lang (at left) as the recipients of the Lions Youth Service Award for November.

This is the third year the Paynesville Area Lions Club has initiated a program to honor and recognize seniors in high school who have demonstrated outstanding character during their school career by offering their time for the benefit of others.

This volunteer service is consistent with the values of the Lions Club. The Lions believe it's important to encourage and recognize that spirit. About eight students will be honored throughout the year for this award. Joe Halvorson and Tiff Rausch were honored in October.

Both Lang and Janotta are active at school and at their respective churches. Following their junior year in high school they both took part in the United Nations Pilgrimage for Youth, sponsored by the Odd Fellows and Rebekahs.

Janotta is the daughter of John and Mary Janotta. She is a member of target leadership, student council, National Honor Society, and the letter club. She is also a peer tutor, helping classmates with homework, and a Pals mentor, working in the elementary school. Janotta performs in the concert band, jazz band, marching band, and pep band. She is also a member of the high school speech team.

She chaperones dances and parties in the middle school and volunteers to work with the kindergarten classes two days a week.

A member of Paynesville Lutheran Church, Janotta is a communion server, youth advisory member, and serves on the call committee.

Lang is the son of Keith and Paula Lang. He is a member of the student council, target leadership, National Honor Society, and letter club.

Lang has been a Pals mentor at the elementary school for two years, and a peer helper. He performs in the choir and pops choir, and is choir president. Lang also takes part in drama and competes on the high school speech team.

He's a member of the Evangelical Free Church where he performs special music, sings in the church choir, and also took part in two service trips to Mexico through his church.

He is also a member of the christian singing group, On Call.
---