Larry Hosch (DFL-St. Joseph) defeated Jim DeRose (R-Richmond) for the open seat in House District 14B, which includes Paynesville, replacing outgoing state representative Doug Stang (R-Cold Spring), who did not seek re-election.

Hosch's victory (11,629 to 10,817 votes, or 51.8 to 48.2 percent) contributed to a DFL resurgence in the Minnesota House, with the minority DFLers picking up 13 seats, turning a 28-seat Republican majority into a two-seat Republican majority.

In other local House races, Bud Heidgerken (R-Freeport) and Dean Urdahl (R-Grove City) were easily re-elected to second terms in House Districts 13A and 18B respectively. Heidgerken defeated Bruce Shuck (DFL-Sunburg) by a vote of 13,562 to 6,604, getting over two-thirds of the votes cast in northern Kandiyohi County, western Stearns County, and all of Pope County. Urdahl beat David Detert (DFL-Litchfield) by a vote of 11,080 to 8,759 in Meeker and Wright counties.

Hosch, in 14B, was one of nine DFLers in the state to win a House seat in a district that also voted for Republican President George W. Bush on Tuesday, Nov. 2, according to a Star Tribune story on Sunday, Nov. 7.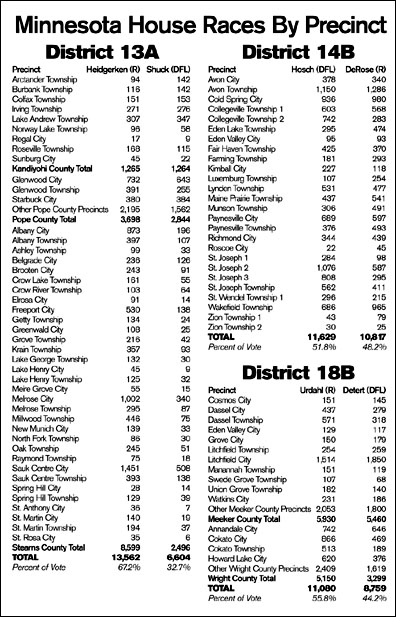 While District 14B voters in the Paynesville area - the city of Paynesville, Paynesville Township, Eden Lake Township, Munson Township, the city of Roscoe, and Zion Township - favored DeRose by a margin of 2,209 to 1,753, Hosch won by heavy margins in Collegeville Township, which includes St. John's University, (1,345 to 851) and in the city of St. Joseph, which includes the College of St. Benedict's, (2,186 to 980). Overall, Hosch beat DeRose by 812 votes. Hosch carried 14 of 26 voting precincts in the district, he noted.
Hosch, 26, will replace Stang, who served four terms in the Minnesota House of Representatives. Both are SJU graduates.
Hosch will have to give up his position as mayor of St. Joseph when he takes office in January.
Hosch said he was excited, relieved, pleased, and tired after four months of campaigning. The result, he said, was "absolutely wonderful."
Hosch said he stopped counting after knocking on 10,000 doors throughout District 14B and said he hopes to continue to talk to voters and listen to their concerns as their state representative. He admitted to having a lot to learn about state government and encouraged district residents to call him with questions and concerns, which will help him to learn, he said. He promised to work hard at the Capitol in St. Paul and represent the district to the best of his ability.
Heidgerken, meanwhile, swept the voting returns in northern Kandiyohi County, western Stearns County, and all of Pope County in winning re-election in 13A. In defeating Shuck again, Heidgerken outpolled him in Kandiyohi County (1,265 to 1,264), in Pope County (3,698 to 2,844), and in Stearns County (8,599 to 2,496). He beat Shuck by more than a 3-to-1 margin in Stearns County, including lopsided margins in the city of Albany (873-196), the city of Melrose (1,0002-340), and the city of Sauk Centre (1,451-508).
Heidgerken, though, was most pleased by his strong showing throughout District 13A, especially beating Shuck in Kandiyohi County, where Shuck is a former county commissioner. Winning all three counties, according to Heidgerken, shows he "represents the entire district, and that's good to see."
"I was very happy to do that well," he added.
In the Paynesville area, Heid-gerken also carried the Kandiyohi precincts (Irving and Roseville townships) by a margin of 456 to 400 and the Stearns precincts (the city of Lake Henry, Lake Henry Township, the city of St. Martin, St. Martin Township, the city of Spring Hill, and Spring Hill Township) by a margin of 661 to 150.
Heidgerken, a former teacher and business owner, said he had received calls asking him to switch parties (since he once ran for the House as a DFLer) but said he was staying in the Republican caucus. He said he will always vote for his district first anyway. His priorities in the next session include funding for local nursing homes, school equity aid, Local Government Aid, and agriculture issues.
Urdahl, a teacher and coach in the New London-Spicer School District, won re-election to a second term in District 18B, representing all of Meeker County and part of Wright County.
Urdahl, who lives by Grove City, beat Detert by 500 votes in Meeker County (5,930 to 5,460) but got 60 percent of the vote in Wright County. Overall, Urdahl won nine of the 12 cities in District 18B and 15 of the 21 townships.
In the Paynesville area, voters in Manannah Township (151 to 119), Swede Grove Township (107 to 68), and Union Grove Township (182 to 140) all favored Urdahl to Detert.
Urdahl said he was very pleased in winning over 55 percent of the vote and gratified that voters rewarded him for his hard work and effectiveness at the Capitol.
He said he plans to continue to focus on ag issues, especially dairy, and education in the legislature. While he supports staggered terms for state senators, who did not face re-election this year, he (as well as Heidgerken and Hosch) is hopeful that a 68-66 Republican majority in the House might help the 2005 legislative session be more productive than the session this year.
"I think we better work together, or we won't get things done," said Urdahl. "I think there had better be bipartisanship, or we won't get things done."
---
Contact the author at editor@paynesvillepress.com • Return to News Menu
Home | Marketplace | Community
---