President George Bush and Congressmen Mark Kennedy and Collin Peterson were re-elected at the general election on Tuesday, Nov. 2. All three were favored by voters in the Paynesville area.

Bush, a Texas Republican, earned a second term as president by winning the electoral college with 286 votes (270 required to win) while Democratic challenger John Kerry, a Massachusets Senator, got 252 votes in the electoral college. The only changes on the electoral map from 2000 were Iowa (seven votes to Bush), New Mexico (five votes to Bush), and New Hampshire (four votes to Kerry).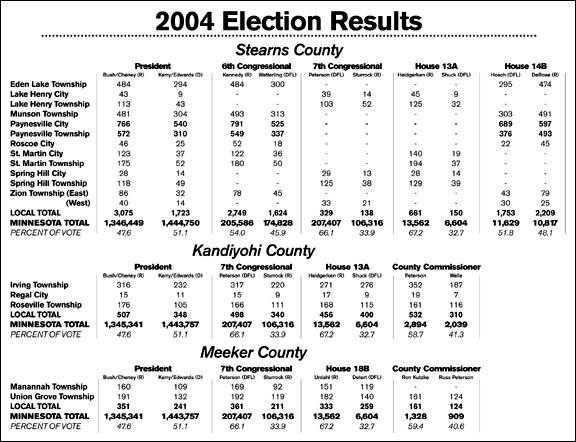 Nationally, Bush outpolled Kerry by 3.5 million votes (59.46 million to 55.95), but Minnesota once again voted Democratic for the presidential ticket, with Kerry/Edwards getting 51.1 percent of the votes in the state (1.44 million) to 47.6 percent for Bush/Cheney (1.35 million), a difference of nearly 100,000 votes.
In the Paynesville area, the ticket of Bush/Cheney outpolled the ticket of Kerry/Edwards in every local precinct. (See related chart ) In the city of Paynesville, Bush outpolled Kerry 766 to 540; in Paynes-ville Township, Bush outpolled Kerry 572 to 310; and in the cities of Paynesville, Lake Henry, Regal, Roscoe, St. Martin, and Spring Hill (and the 11 townships surrounding them) Bush outpolled Kerry 3,933 to 2,312, a better than 3-to-2 margin.
The Paynesville area is split into two Congressional Districts, Minnesota's Sixth and Seventh. Kennedy won a third term in the U.S. House of Representatives by beating challenger Patty Wetterling (DFL-St. Joseph). Kennedy got 54 percent of the vote, and Wetterling got almost 46 percent of the vote.
Kennedy's Sixth District stretches from Stillwater to Stearns County, with Paynesville being its western-most point. In the Paynesville area - Eden Lake Township, Munson Township, the city of Paynesville, Paynesville Township, the city of Roscoe, the city of St. Martin, St. Martin Township, and part of Zion Township - Kennedy outpolled Wetterling 2,749 to 1,624, getting nearly 63 percent of the vote.
The eastern half of Zion Township is in the Sixth District, but the western half of Zion Township is in the Seventh District, where Peterson was re-elected to an eighth term in Congress.
Peterson, who is in line to become the ranking Democratic member of the House Ag Committee, defeated David Sturrock (R-Marshall) by getting nearly two-thirds of the votes, 66.1 percent to 33.9 percent.
Peterson also defeated Sturrock in the local area - including Irving and Roseville townships in Kandiyohi County, Manannah and Union Grove townships in Meeker County, and the city of Lake Henry, Lake Henry Township, the city of Spring Hill, Spring Hill Township, and the western half of Zion Township. In the Paynesville area, Peterson beat Sturrock 1,188 to 689, carrying areas that voted Republican in the presidential race.
Hospital Board


Among the local elections on the ballots last week, two contested races were decided for the Paynesville Area Hospital District. Incumbent Carolyn Swyter defeated Doug Ruhland, who currently represents Eden Valley, for the at-large seat on the board, and challenger Ross Amundson defeated incumbent Joe Gruenes to represent Eden Lake Township on the board.

Seven local cities and five area townships comprise the hospital district. Swyter outpolled Ruhland in all but two of the precincts, including large margins in the city of Paynesville (825 to 372) and in Paynesville Township (632 to 204). Overall, she won re-election to the hospital board by a total vote of 2,983 to 1,778. (See related chart)
"I'm grateful to the voters throughout the hospital district for re-electing me as their representative to the hospital board, and I'm eager to continue my service to PAHCS," said Swyter, who has served on the hospital board since its formation and previously served on the city's hospital committee, when the hospital was still a municipal facility.
Amundson outpolled Gruenes, who was appointed to represent Eden Lake Township two years ago, by a margin of 443 to 282. "I want to thank the voters for electing me, and I'm eager to begin representing Eden Lake Township on the board," said Amundson.
Amundson urged any residents with questions or concerns to contact him, and he thanked Gruenes for his service to PAHCS and to Eden Lake Township.
Amundson will start his four-year term on board in January.
Four other hospital board seats were up for election this year. Don Anderson (city of Paynesville), Bob Brauchler (city of Regal), and Diane Rothstein (city of St. Martin) were all re-elected without opposition. Greg Ruhland was elected to represent the city of Eden Valley as a write-in candidate to replace Ruhland, who is moving to Eden Lake Township.
City Council
No city races were contested before the election, but the race for a city council seat in Roscoe ended in a tie anyway.
No one filed for the two-year term as mayor in Roscoe or for the two four-year terms on the city council. Incumbent Don Heinen got the most votes for mayor (32), and incumbent councilor Mike Christen (13) led the votegetters for city council, both as write-in candidates.
Write-in candidates Don Albrecht and Don Mackedanz tied with 11 votes for the other city council spot. According to the Secretary of State's office, the tie could be resolved if one of the leading votegetters (including Christen) would refuse to accept the office. If both Albrecht and Mackedanz want the city council spot, but only one is available, they must decide which one wins by drawing lots. While state law does not define how to draw lots, this can include a coin flip or drawing straws or cutting a deck of cards.
The Roscoe City Council will hold its canvassing meeting on Wednesday, Nov. 10, at 7 p.m., where this election tie is expected to be decided.
In other city races, incumbent Jeff Thompson was re-elected mayor for Paynesville, and newcomers Jeff Bertram and Tom Lindquist were elected to city council spots. (Incumbents Harlan Beek and Dave Peschong did not refile.)
In Lake Henry, incumbent Eric Pederson was re-elected mayor as a write-in candidate, and Scott Weidner and Dale Olmscheid were elected to council seats as write-ins. In Regal, incumbents Mike Braun (mayor), Jim Halvorson (city council), and Marlin Pauly (city council) were all re-elected.
And, in St. Martin, incumbent James Rothstein was re-elected as mayor, incumbent Steve Revermann was re-elected to the council, and Randy Olmscheid was elected to the other council seat as a write-in.
County Races
Two county commissioner races impacted the Paynesville area. In Kandiyohi County, Dennis Peterson was re-elected in District 4, which includes Irving Township, the city of Regal, and Roseville Township.
Peterson defeated challenger Alan Welle by a total vote of 2,894 to 2,039. In the Paynesville area, Peterson was favored by voters by a margin of 532 to 310.
In Meeker County, Ron Kutzke was re-elected as county commissioner in District 5, defeating challenger Russ Peterson 1,328 to 907. In the Paynesville area, District 5 includes Union Grove Township, which supported Kutzke by a margin of 161 to 124.

---
Contact the author at editor@paynesvillepress.com • Return to News Menu
Home | Marketplace | Community
---