Henry Tabrizi is the new club manager at the American Legion in Paynesville, supervising both the bar and kitchen since August. Since his arrival in Paynesville, Tabrizi - who strongly believes in home-cooked meals - has refined the menu for weddings and private parties. He plans to create a new, moderately-priced menu for the dining room.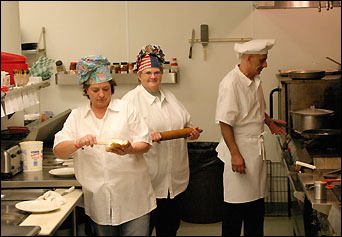 Tabrizi, who resides in Paynesville, has worked as a consultant for restaurants and completed a food and beverage training program with the Hilton Hotel chain in Chicago, Ill. He has also worked as the food and beverage director at a Hilton Hotel in Long Beach, Calif., and he both managed a resort and opened a restaurant on Santa Catalina Island, Calif.
Cooks Carolyn Pelkey (left) and Becky Schmitz (center) and club manager Henry Tabrizi (right) are new staff at the Paynesville American Legion.
He returned to Minnesota to manage restaurants in Willmar including a Perkins Family Restaurant and Bakery and the VFW. Most recently, Tabrizi worked as a kitchen manager for the Holiday Inn in St. Cloud and opened Cafe Renaissance in Waite Park, which serves Mediterranean cuisine.
Tabrizi - whose formula for business is: "If you hire the best, you produce the best" - has a full staff that includes two new cooks. Carolyn Pelkey, who also started in August, has years of kitchen experience within the restaurant industry and the skilled nursing industry. "I like working with the public and the variety of cooking," Pelkey said of her job. "It's about the food, working hard to make the food."
Becky Schmitz, who started in October, has years of experience in cooking and baking, including work at the American Legion in Spicer. "A cook will find something to do in a kitchen at all times. There is always something to do," she said.
Since working with the public for years through the restaurant industry, Tabrizi has learned, "If you do a good job, it's a good, rewarding profession." He said of his new position, "It is a good job opportunity and I always like a challenge."
Tabrizi said that teamwork is pivotal in a restaurant and that one person cannot do it all. "You need people to help you," he said.
Schmitz agreed that a kitchen team needs to work together. She added that if the Legion dining room is busy, the kitchen team is as well. "We haven't quit," she said of people waiting for their meals. "We're still back there."
---
Contact the author at editor@paynesvillepress.com • Return to News Menu
Home | Marketplace | Community
---