The Paynesville Area Health Care System (PAHCS) recently opened three new birthing suites. The suites were created as part of the current $7.5 million remodeling project and were recently approved by the Department of Health for use.

The suites offer a new method for childbirth. They are designed to be comfortable, with a private bath and all the necessary medical equipment (which can be easily stowed after delivery).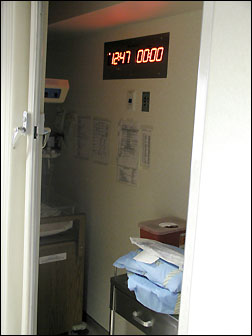 "You can labor, deliver, and recover in these rooms," said Bev Mueller, acute care administrator for PAHCS, who has overseen much of the construction project.
Previously, expectant mothers would come to PAHCS and immediately be brought to a birthing room, where they would labor and deliver, taking typically between 12 and 18 hours. Then after delivering, they would be transferred, almost immediately, to a regular hospital room.
The medical equipment in the birthing suites can be stowed away, like the clock and timer and supplies behind this door.
"I think our goal in all of this was to make a very relaxing environment for the baby and the mother, and yet safe," said Mueller. "Our #1 priority is always to have a healthy baby and mother."
To understand how the new birthing suites should make deliveries more relaxing, consider that mothers will now be able to unpack in their rooms when they arrive in labor, rather than having to keep their suitcase with them until they were moved to their hospital room. And if a mother wants to labor in a tub, she used to have to walk down the hall to a separate bathroom, while now she can just hop in the tub in the adjoining bathroom. And the new birthing suites have a chair that pulls out into a couch for the father to sleep and stay overnight.
Actually, one suite was done earlier this summer, but until all three suites were done PAHCS could not use the birthing suites as intended, as they had to keep it open in case someone else came to deliver.
Holly Ziemer, who works at PAHCS in the medical records department, was one of the first mothers to deliver a child using the full concept of the birthing suite. The wood floors and decor made for a friendly atmosphere, said Ziemer, who delivered her first child, a girl, on Wednesday, Oct. 23. Ziemer said it was relaxing to be in one room, quiet to be away from the other hospital traffic, and she really appreciated that her husband could stay in the room. "This is definitely the way to go," she said.
The birthing suites were not cheap to make. The overhead light - which can be stowed in the ceiling - cost $15,000 plus installation. The special birthing bed cost $12,000.
PAHCS will need lots of deliveries to get a return on their investment. With a two-day postdelivery hospital stay on average, a typical birth leads to $2,500 or so in charges for PAHCS. In its 2002 fiscal year, PAHCS had 118 deliveries.
"Hopefully, people will like it, and it will increase our deliveries," said Mueller.
Keeping deliveries at PAHCS is not only important for the immediate income, said Mueller. It's the start of the facility's Caring for Life motto. Quite literally, it's getting them in the door for the first time.
"They are the future of our community," she explained.
"If someone delivers here, they follow up and have child care here. As they age, hopefully they will continue to use our facility."
PAHCS also could add a fourth birthing suite someday, said Mueller, if the current three ever get so busy that another one becomes necessary. In the first week of use, PAHCS had three deliveries in the new birthing suites.
---
Contact the author at editor@paynesvillepress.com • Return to News Menu
Home | Marketplace | Community
---