Culvert replaces bridge on Cyrilla Beach
This article submitted by Linda Stelling on 11/4/97.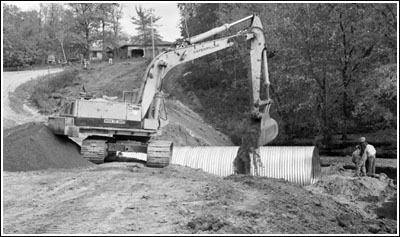 A new eight-foot high culvert has replaced the narrow bridge leading into Cyrilla Beach. In 1983, Eden Lake Township had applied for funds to cover the expense of the bridge replacement. The funds were soon depleted and the bridge was never replaced.
ďYears later, working with Joe and Jeff Bertram, we had applied for $50,000 from the state,Ē Norvald Sogge, township clerk, said. ďThe governor vetoed the measure.Ē
Through the county commissioners and county engineer we found funding was available if we installed a four-foot culvert to allow for water equalization. This summer the board of supervisors told the township the project could be done by staying on township right-of-way.
Tired of waiting for state funding, work began Oct. 6 with Thielen Construction, Eden Valley, filling in the road bed. The 11' 4" long culvert was laid into place on Oct. 21 and by Oct. 25 the project was completed.

---