Middle school thespians will be presenting the comedy "Destiny" this weekend.

"Destiny" is a spoof of nighttime soap operas like "Dallas" and "Dynasty." It will be presented in the auditorium on Friday, Nov. 7, and Saturday, Nov. 8, at 7:30 p.m.

In the play, the title character Destiny (played by seventh grader Karly Leitzman) undergoes plastic surgery, which leads to marriage and great fortune. After her life-changing experience, she seeks revenge on the people who had mistreated her on account of her large nose.

The play - sort of a combination of "Cyrano de Bergerac" and "The Count of Monte Cristo" - is meant to be light-hearted entertainment with plenty of humor, said director Ken Vork.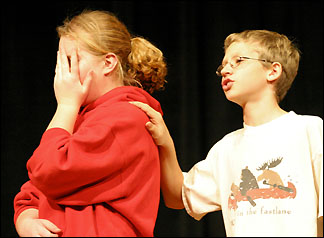 "Destiny" was written by Tim Kelly, who specializes in popular plays for younger casts.
The modern script could be set in any megapolis in the United States, said Vork. The stage will be a unit set, with just the props and furniture depicting the various locations, including a restaurant, courtroom, hospital, and mansion.
Destiny (Karly Leitzman) laments as the world-famous plastic surgeon Dr. Balducci (John Buermann) tells her he can't help her. Later in the play, he agrees to perform the surgery, with life-altering consequences.
The 12-member cast started practicing in October. They will have five weeks of rehearsal before the opening curtain.
"The thing that's always fun with middle school kids is they get so excited," said Vork. "Sometimes the challenge is to get the excitement focused in the right direction."
The play does not have an important message but aims to entertain with humor, said Vork. Like all middle school productions, it is meant to give students an introduction to the world of theater and acting.
The two-act play will last approximately 90 minutes with one intermission. It will be presented at 7:30 p.m. on Friday and Saturday, Nov. 7 and 8, in the school auditorium. Admission is $4 for adults and $2 for students.
Cast of Characters
Destiny Mink: Karly Leitzman
Rake Carbunkle: Ezra Thompson
Clover: Brynna Hendrickson
Mrs. Carbunkle: Natasha Fangmeier
Nurse: Kaitlin Burlingame
Secretary: Taylor Haag
Dr. Balducci/Deputy: John Buermann
Reporter/Gypsy: Jayna Flanders
Pandora/Detective: Tarin Beireis
District Attorney: Katrina Daby
Clover/Cosmotologist: Kendra Hengel
Brunhilda: Kelsey Reinke
Student Director: Sami Tierney
Director: Ken Vork
---
Contact the author at editor@paynesvillepress.com • Return to News Menu
Home | Marketplace | Community
---