Leadership conference was memorable for area youth
This article submitted by Linda Stelling on 11/3/98.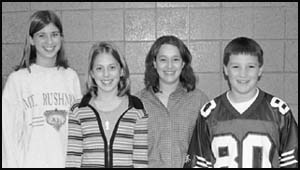 Four Paynesville Area Middle School students attended the fifth annual Rural Youth Leadership Conference in Spicer Oct. 27 and 28.

Over 50 junior high youth from throughout southwest Minnesota participated in the hands-on learning experiences that focused on leadership development.

Attending from Paynesville were (at left, L to R) Susie Swyter, Chelsey Leukam, Heidi Olmscheid, and Michael Mueller.

The mission of the conference stated: Leadership is building character, integrity, creativity and harmony into action. It was a goal for the youth to develop leadership skills that can be applied to community service learning projects and to build skills that can be used in other areas of their lives.

Special features of the conference included the colors personality inven-tory, adventure initiatives, and motivational speakers. The conference also included a youth insights panel on successful Minnesota community service learning projects. The teens then planned projects they can carry out at home.

The teens had an opportunity to practice what they learned with community service projects during the conference. Willmar FoodShelf, Goodwill Industries, local nursing homes, schools and parks provided a variety of service projects for the conference participants. Projects included: stocking food, clowning, park clean-up, and working with young children.

Mueller, a sixth grader, thought the conference was fun and interesting. ďAfter meeting the kids it seemed like no one was a stranger,Ē Mueller added. ďThe stories were amazing because kids did such outstanding things. We learned so much about being a good leader and teamwork.Ē

Mueller said his favorite part of the conference was the color training and community mapping. ďColor training is where you use four cards with pictures on the front and writing on the back. You look at the pictures and decide which is most like you and then you put them in order. Then you score it. After you read the back of each card, you put them in the order you think best describes you. Then you answer 10 questions and grade them from four to one. Whichever card gets the most points is what you are. The colors were orange, green, gold and blue. I was green,Ē Mueller said.

ďCommunity mapping is neat because it makes you realize how many different things there are in our community. I never knew Paynesville had so many things for its size,Ē Mueller added.

Olmscheid, a seventh grader, felt the conference was a great experience. ďIt was a lot of fun getting to know different people. It was really neat that they took people from all over the area and put them together to become friends,Ē she said.

Leukam, a sixth grader, said the colors program was also her favorite part of the conference. ďWe got to play games to get to know each other. I met a lot of people and became friends with a lot of them,Ē she added.

Swyter, an eighth grader, said this was her second time attending the con-ference. ďI got a lot out of it both times. We played a couple of ice breaker games right away which helped us to get to know each other. We did a lot of activities that taught us how to be better leaders. We now all have some great ideas to use in our school,Ē Swyter added.
---