German girl returns visit
This article submitted by Erin Aagesen on 11/3/99.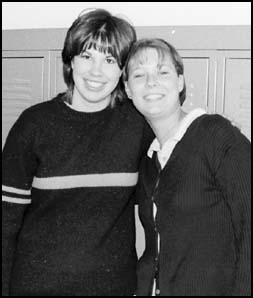 When Becca Werlinger traveled to Germany this past spring with the German class, she didn't know how well she would get along with her host family, the Walosseks. Sonja(pictured at right),a 16-year-old member of the family, and Becca(pictured at left)had such a good time together that Sonja has come to stay in Paynesville with the Werlingers.

Sonja did not come to Minnesota through any organization. After Becca left Germany, they kept in contact with each other. Sonja showed an interest in visiting, so the Werlingers invited her to stay with them. She arrived on Sept. 13 and will return to her hometown of Ulm on Dec. 4.

Sonja wanted to come to the United States to "learn more about the country, get better at English, and visit Becca." While here, she has been attending Paynesville Area High School as an 11th grader. She has been taking design, trigonometry, Spanish, German, and English, which she says has been her favorite class so far.

She notes some differences between her school at home and her experiences in Paynesville. She feels that German schools are stricter because they have a core curriculum and students must take all of those classes, no matter what their interests are. In her opinion, American schools offer more flexibility and options. Another difference is that upon entering what Americans consider high school, Germans are placed in one of three schools depending on their abilities. Sonja is in the 11th grade of a 13-grade system in the German gymnasiam, which is the school for students with the highest abilities.

Outside of school, Sonja has done some traveling with the Werlingers. She has gone to Moorhead, Bemidji, Red Wing, Des Moines, and Itasca State Park. Itasca was her favorite visit.

What has impressed Sonja the most about her stay is how nice the people have been and how everything is new and different for her. Both Becca and Sonja say that she has not had trouble adapting and has really been enjoying herself.

When asked what she misses most about her home, she immediatley replied, "the bread" Then added, "And my friends."

Back in Ulm, Sonja enjoys playing the piano, listening to music, and belongs to a fencing club. Her father, Dieter, is a biology professor at the University of Ulm. Her mother, Krimhild, is a teacher. She has a 14-year-old brother, Christian, and a ten-year-old sister, Lena.
---