Medical student will get hands-on training at PAHCS
This article submitted by Michael Jacobson on 11/3/99.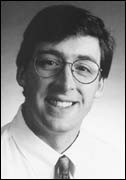 Another third-year medical student has arrived at the Paynesville Area Health Care System for nine months of hands-on learning. Bob Berg started work at PAHCS on Monday, Oct. 18, and will be here until July 14, as part of the Rural Physician Associate Program (RPAP).

PAHCS has hosted four other RPAP students previously. In 29 years, RPAP has had 900 students train in over 100 communities. Dr. Tim Malling was an RPAP participant. This year, there are 38 RPAP students throughout the state.

The program aims to give students the experience of a physician in a rural community. Berg will be working with Dr. Randy Zimmerman, in both the clinics in Paynesville and Richmond, during his stint at PAHCS.

Berg will be seeing patients with Zimmerman and getting practical experience under Zimmerman's tutelage and supervision. Berg will gather oral histories from patients, will do physical exams, and will discuss diagnoses and treatment decisions with Zimmerman. Berg will accompany Zimmerman in making hospital rounds, will assist in surgery and delivering babies, and will gain experience in emergency, clinic, and nursing home care.

Berg, who attended Greenway-Coleraine High School, graduated from St. Scholastica College in 1992 with a master's degree in physical therapy. He practiced for over five years in Aberdeen, S.D., and Lacrosse, Wis., before returning to medical school at the University of Minnesota-Duluth.

After two years, medical students at UMD transfer to the main campus of the University in Minneapolis for their practical training.

Berg said the hands-on opportunities available to him at PAHCS through RPAP were much greater than his colleagues in the Twin Cities. "It's really a much better medical school experience, in my opinion," he explained.

Zimmerman said Berg has good clinic skills already due to his experience in physical therapy and his previous medical school rotations. The RPAP experience will allow him to improve those skills and put his two years of academic training to practical use, Zimmerman added.

"The physicians in Paynesville have an excellent reputation as teachers," he added. "During my stay in Paynesville, I hope to get to know the community and learn as much as possible."

Berg, who already completed six-week rotations in urology and obstetrics/gynecology in Duluth, will be with Zimmerman on Mondays, Thursdays, and Fridays. On Wednesdays, he will be assisting with surgeries at PAHCS to fulfill that requirement of his training.

On Tuesdays, he has a chance to catch up with his reading. The university provides each RPAP student with a computer that is connected with the other RPAP communities, the Fairview University Medical Center, the BioMedical Library, and Beth Israel Hospital in Cambridge, Mass.

This winter, Berg will participate in another session of the Rural Health School on Tuesdays. He also will be completing a research project during the next nine months. Berg isn't sure of his topic yet, but he may continue the research he did last year at UMD. In his statewide study of rural physicians, Berg's examination included gender differences, income satisfaction, and call hours. His research last year won him fourth place honors nationally at the Scientific Assembly of the American Academy of Family Practitioners.

Berg said family medicine is high on his list of specialties. "My wife and I want to live in a rural community," he said, "and I thought (the RPAP program) would be a good way to get exposure to rural medicine."

Away from the office, Berg enjoys bicycling, cross country skiing, fishing, hunting, and doing "anything with my wife and kids." He and his wife, Carrie, are expecting their third child. Already living with them in Paynesville are Forrest, a three-year-old boy, and Alaina, a one-year-old girl.
---