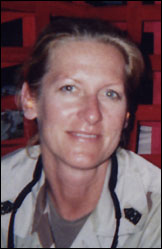 Since deploying to Afghanistan in May, Sergeant Major Lisa (O'Brian) Jones has dedicated herself to helping the country's children better their own lives by furnishing them with school supplies.

Sergeant Major Lisa (O'Brian) Jones, a 1980 PHS grad who has been deployed in Afghanistan since May, is collecting school supplies for children with help from her mother.

Working with her mother, Jones hopes to ensure that as many Afghani children as possible get the best education possible, and she knows that won't happen if the children don't have basic supplies like pencils and paper.

Jones, a 1980 PHS graduate, first learned of the children's need when her unit was sent to Bagram Air Base in Afghanistan, where they will stay until February 2005.

After learning about the children's needs, Jones told her mother, Nina O'Brian of Waite Park, who dove into a full-fledged school supply drive.

Now O'Brian has enlisted the help of friends and neighbors to gather school supplies, which she ships to Jones in Afghanistan. Children in Waite Park and St. Joseph have begun school supply drives at school, and donations have begun to flow in.

According to Jones, who works with school and orphanage officials to determine need, many of the school supplies in remote areas are supplied by soldier volunteers. The kids need basic supplies: pencils, paper, pens, crayons, markers, book bags, scissors, flashcards, and rulers. The schools also need maps of Afghanistan and books in English.

"Little extras" are also nice, added Jones. Things like candy and other treats, or samples of shampoos, lotions, toothpastes, soaps and other toiletries are difficult for the children to get.

Cash is also needed. With donations of school supplies pouring in, O'Brian has found that shipping the supplies to Afghanistan is very expensive. Cash donations will go toward postage, she said.

Jones is pleased to be helping the children of Afghanistan begin their new lives. Soldiers there have a two-sided mission, she said, to get rid of the "bad guys" and to help the country rebuild and generate an economy. Helping rebuild schools, which are open to girls for the first time in many years, is just one way soldiers have helped toward that goal, said Jones.

Jones, an Army career counselor, has been in the Army for nearly 20 years and is a member of the 25th Infantry Division based in Hawaii, where she lives with her daughter.

After graduating from Concordia College in Moorhead, she chose a military career as a way to help repay college loans. She stayed because it was a good fit and she enjoyed being a soldier. Knowing what she knows now, she'd do it again, she said.

"I am very proud to be a soldier and defend our country each and every day," she wrote in an e-mail. "No, I'm not scared," she wrote of being in Afghanistan. "My life is not in the hands of the enemy - it's in God's hands."

O'Brian is proud of her daughter, and is thrilled to be able to help with her mission. Being involved helps make her daughter's deployment more bearable, she said.

To donate school supplies, call O'Brian at 320-259-8202. Supplies can also be sent to O'Brian at 590 Park Meadows Drive, Waite Park, MN 56387.
---
Contact the author at editor@paynesvillepress.com • Return to News Menu
Home | Marketplace | Community
---