When Melissa Bachman left Minnesota to study in Costa Rica in May, her plan was to learn as much Spanish as possible during the summer. Little did she know her experience would be cut short by a serious illness.

Bachman, a 2002 PAHS graduate, planned to spend the summer in a Spanish immersion program in Costa Rica. As a St. Cloud State University student majoring in TV broadcasting and Spanish, she believed spending the summer in the intense program and speaking only Spanish during the summer would improve her language skills in a way that attending a Spanish class in Minnesota couldn't.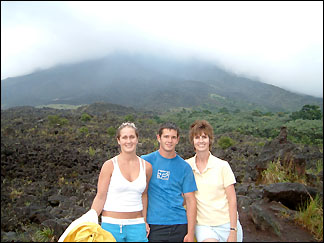 However, after contracting viral meningitis - an infection of the fluid that surrounds the spinal column and the brain - while studying abroad, Bachman learned much more than Spanish. She learned that she was strong enough to face a serious illness alone in a Third World country.
Melissa Bachman (left) returned to Costa Rica in August with her brother Aaron and her mother Karen to sightsee in the Central American nation. Bachman returned to Costa Rica only weeks after having to leave her summer study abroad due to a serious illness, most likely viral meningitis.
Bachman first felt ill after spending a Sunday at the beach with her friends in July. Initially, she saw an American doctor at a nearby resort who told her she was suffering from heat exhaustion and suggested taking it easy for a few days.
The next day, when Bachman's fever continued to rise and the pain in her head and neck became excruciating, she contacted the American embassy for a referral to a good physician. As an athlete - Bachman is a member of the SCSU women's track team - she wasn't used to feeling weak, so when it became difficult to walk, she knew something was terribly wrong, she said.
Sick, scared, and feeling very alone, making the doctor understand just how bad she felt was very difficult, she said. Though she had learned a lot of Spanish since May, communicating in Spanish was difficult because she was so sick. In addition, the doctor wasn't very warm, and the office - a small room with a desk and a chair - was so sub-standard that Bachman knew she probably wasn't getting good-quality care.
In fact, the office didn't even have an exam table. When Bachman told the doctor she needed to lie down, the doctor informed here that there was nowhere at the clinic for her to do so.
That doctor told her she had a flu and sent her to go home to her host family for rest.
But rest was difficult at her host family's home. According to Bachman, her host family was very nice, but nobody - including her host mother - was very "motherly," and nobody in the family realized just how sick she was. She was left alone during the day to care for herself. Just getting up to turn off a light or to cool the compresses she was using to combat her fever was a struggle.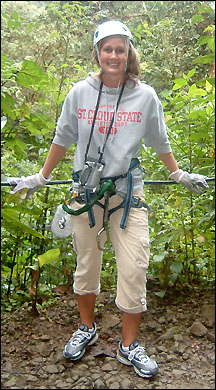 The first time Bachman heard the word meningitis was after she called home to tell her mother, Karen, that she was ill. Karen called their family doctor who told Bachman to ask the doctor in Costa Rica to test her for meningitis.
Melissa Bachman prepares to traverse a Costa Rican rain forest suspended by cables and pulleys.
At Bachman's insistence, after five days of high fever and pain, the doctor in Costa Rica finally tested her blood. The doctor didn't want to do a spinal tap to test for meningitis, said Bachman. She didn't think Bachman could have meningitis, she said, and in addition, she hadn't done a spinal tap in more than ten years and she didn't know if she could do one safely.
And while that doctor still didn't know exactly what was causing the young woman's illness, Bachman's extremely high white blood count revealed that she was indeed very ill. The doctor told Bachman that it was probably leukemia, and that she should go back to the United States for treatment. The doctor still refused to even consider that Bachman had meningitis, even though her family doctor was fairly positive of the diagnosis, even without seeing her, primarily because of the pain in her neck and head.
Arranging a flight back to Minnesota was difficult, but a few days later, Bachman was packing her belongings to return home. Again, she was on her own. Her host family called a taxi to transport her to the airport, and Bachman had to carry all of her belongings on her own, even though she still felt terrible, she said. In addition, she was told that it was very important not to look or act ill as she was leaving the country, as she might be quarantined, she said.
But getting home was important. "I didn't want to die in Costa Rica," she said.
Due to flight delays, it took nearly two days for Bachman to travel from Costa Rica to Minnesota, but in spite of getting little sleep she started to feel better.
After landing in the Twin Cities, Bachman's mother took her straight to an emergency room near the airport, but by that time, nearly two weeks from the onset of her symptoms, Bachman's fever had dropped and her white count was returning to normal; the disease was retreating.
Doctors in Minnesota told her she probably had viral meningitis, but without doing a painful spinal tap, confirming the diagnosis would be impossible, Bachman said. Since she was recovering from the disease, Bachman declined the spinal tap. Bachman believes she's very lucky. Doctors believe her meningitis was viral, not the bacterial variety that is contageous and sometimes kills its victims. Still, with little care, the disease could have been much worse.
"I'm lucky I didn't have any lasting damage," she said.
After spending a few weeks recovering at home, Bachman felt well enough to return to Costa Rica with her mother and her brother, Aaron, in late August.
On that trip, which was just for fun, Bachman injured herself during a surfing lesson and got another taste of the country's medical system.
Though her injury wasn't life-threatening - a deep three-inch gash on her forearm - Bachman was again shocked with the poor quality of care and the poor hygiene that the hospital practiced while caring for her. The hospital was littered and cleanliness was obviously not a priority, she said. The needle that the doctor used to numb her arm was pulled from his pocket, unwrapped. And her arm was sutured with fishing line.
Once she was home again, the wound, which did not heal properly, was re-opened and a Paynesville doctor needed to re-suture it.
"It reminded me that Costa Rica really is a Third World country," said Bachman.
In spite of everything that happened, though, Bachman wants to go back to the country, possibly at Christmas. She loves the country. She enjoyed the beaches, the night life, and the people.
She met a lot of wonderful people, including her host family, and made friends in the community who she is anxious to see again. She met people from all over the world who were taking part in the Spanish program and she now has close friends in Texas, California, and Florida whom she met at the school.
Bachman believes she learned more Spanish in three months in Costa Rica than she could in a few years of college. When she got there in May, she spoke virtually no Spanish, but after a month she was doing quite well, she said. Her host family spoke almost no English, so she was forced to learn the language quickly, just to get by, she said.
And while she wants to return to Costa Rica to visit, the next school she attends to learn Spanish will probably be in Spain, if she can afford it. There she would learn a different Spanish dialect, she said, and she would have the opportunity to visit other European countries. In addition, if she hurts herself or gets sick there, the medical care would probably be better, she said with a grin.
---
Contact the author at editor@paynesvillepress.com • Return to News Menu
Home | Marketplace | Community
---