The Paynesville Area Mixed Choir and the Paynesville Area Treble Choir will present the musical, "Bye Bye Birdie," this weekend.

Over 40 choir members will sing and act in the production, a musical comedy that takes place in 1958 and centers around rock star Conrad Birdie (Bryce Fischbach), who is being drafted into the army. Birdie decides to go to Sweet Apple, Ohio, to give one last kiss to Kim MacAfee (Mary Keller), the teenage secretary of the Sweet Apple Conrad Birdie Fan Club.

The real love story in the musical centers around Birdie's manager Albert Peterson (Dugan Flanders) and his secretary Rose Alvarez (Caitlin Lien), who have a chance to pursue their relationship with their duties for Birdie ending.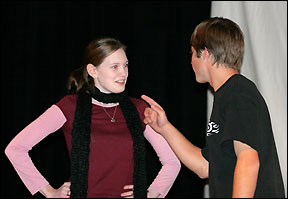 Other leading characters are: fan club president Ursula Merckle (Jayna Flanders); Albert's mother Mrs. Mae Peterson (Lindsey Pelton); Kim's parents Mr. Harry MacAfee (Shawn Reinke) and Mrs. Doris MacAfee (Lauren Vaske); and Kim's jealous boyfriend Hugo Peabody (Peder Thompson).

Senior Caitlin Lien and junior Dugan Flanders star as a rock star's secretary and manager in the musical "Bye Bye Birdie," which the PAHS choirs will present on Friday, Nov. 4, and Saturday, Nov. 5, at 7:30 p.m.

Public performances of the musical are on Friday, Nov. 4, at 7:30 p.m. and on Saturday, Nov. 5, at 7:30 p.m. (Choir members will also perform the musical for middle schoolers and fourth and fifth graders on Thursday morning and for the high school student body on Thursday afternoon.)

Tickets are $6 for adults and $4 for children (ages 12 and under). Advance tickets are available at the local financial institutions and at the local grocery stores.

Reserved seating is available through Community Education at 320-243-7570.

Choir director Cheryl Bungum, who directed the musical Music Man Jr. for the seventh and eighth grade choir last spring, said she wanted to do a musical for the first time with her high school choirs because of the talented students she has, especially in the junior and senior classes. While some of the students have acting experience, many do not, and the musical gives them a new experience in acting.

Bungum said she chose the musical "Bye Bye Birdie" because it has so many parts, providing lots of opportunities for her students. Even the small parts, in the chorus for instance, are vital to making the musical a successful production, she added. The musical, she continued, is based loosely on Elvis Presley joining the army in the 1950s.

Bungum held auditions during the second full week of school in September, and choir members have practiced the songs in class since school began. (She tried to divide the groups into the chorus by choir: mixed choir, girls grades 11-12 and boys grades 9-12; and the treble choir, girls grades 9-10.)

The musical, which should run over two hours with an intermission, features nearly 20 songs, of which "Put on a Happy Face" is probably the best known.

In addition to class time, students have held 20 evening practices in September and October. Assisting Bungum is theater veteran Ian Pelton, serving as acting coach and helping the students with their stage movements.

The musical will replace the choirs' normal fall event - its Soup, Sandwich, and Song fundraiser.

"Bye Bye Birdie" originally ran on Broadway starting in 1960, starring Dick Van Dyke as Albert Peterson. Van Dyke also starred in the movie version of "Bye Bye Birdie" released in 1963.

The book was written by Michael Stewart, the music by Charles Strouse, and the lyrics by Lee Adams. The show is being presented by arrangement with, and the music and dialogue material furnished by Tams-Witmark Music Library, Inc., 560 Lexington Avenue, New York, NY 10022.

Performances
Friday, Nov. 4, 7:30 p.m.
Saturday, Nov. 5, 7:30 p.m.
The Paynesville Area High School Choirs will present the musical, "Bye Bye Birdie," this weekend in the school auditorium.

Tickets are $6 for adults and $4 for children (ages 12 and under). Reserved seating is available through Community Education at 320-243-7570.

Cast of Characters
Bye Bye Birdie (In Order of Appearance)
Albert Peterson: Dugan Flanders
Rose Alvarez: Caitlin Lien
Helen: Steph Johnson
Nancy: Sam Chevalier
Alice: Chelsey Kalkbrenner
Margie: Lindsey Wyffels
Penelope: Meredith Schaumann
Suzie: Emily Lindeman
Harvey: David Ruprecht
Sweet Apple Teen Chorus: Ashley Atkinson, Danielle Binsfeld, Jared Eickhoff, Harrison Fangmeier, Dugan Flanders, Tiffany Gronseth, Kaila Hartmann, Sheena Hoekstra, Adriano Ihrke, Kristin Lang, Shonda Martinson, Jen Moburg, Emily Mohr, Cassandra Olmscheid, Ezra Thompson, Peder Thompson, and Michael Vaske
Ursula Merkle: Jayna Flanders
Kim MacAfee: Mary Keller
Mrs. Doris MacAfee: Lauren Vaske
Mr. Harry MacAfee: Shawn Reinke
Conrad Birdie: Bryce Fischbach
Teen Girls: Callie Bennett, Laura Binsfeld, Kaitlin Burlingame, Crystal Cromwell, Katrina Daby, Meghan Doll, Natasha Fangmeier, Brianna Fischbach, Jayna Flanders, Rachelle Hasbrook, Ariel Jones, Heidi Kuhl, Alexa McCorquodale, Ashley Mullen, Heather Rondeau, and Alyssa Tish
One Girl: Callie Bennett
Sad Girl: Jen Moburg
Mrs. Mae Peterson: Lindsey Pelton
Excited Teen: Crystal Cromwell
Crowd: Ashley Atkinson, Danielle Binsfeld, Sam Chevalier, Jared Eickhoff, Tiffany Gronseth, Sheena Hoekstra, Adriano Ihrke, Steph Johnson, Chelsey Kalkbrenner, Emily Lindeman, Shonda Martinson, Emily Mohr, David Ruprecht, Meredith Schaumann, Ezra Thompson, Michael Vaske, and Lindsey Wyffels
Reporters: Cassandra Olmscheid, Kristin Lang, and Kaila Hartmann
Trainman: Harrison Fangmeier
Hugo Peabody: Peder Thompson
Fred: Jared Eickhoff
Mrs. Merkle: Natasha Fangmeier
Lee: Ezra Thompson
Mayor: Ezra Thompson
Mayor's Wife: Alyssa Tish
Man's Voice: David Ruprecht
Another Voice: Jared Eickhoff
Third Voice: Rachelle Hasbrook
Fourth Voice: Jared Eickhoff
Girl's Voice: Ashley Mullen
Randolph MacAfee: Sam Bungum
Gloria Rasputtin: Kaitlin Burlingame
Ed Sullivan's Voice: Jared Eickhoff
TV Stage Manager: Meredith Schaumann
TV Stage Hands: Ashley Atkinson, Atkinson, Danielle Binsfeld, Tiffany Gronseth, Kaila Hartmann, Kristin Lang, Emily Lindeman, Emily Mohr, and Cassandra Olmscheid
Quartet of Townspeople: Sam Chevalier, Shonda Martinson, David Ruprecht, and Ezra Thompson
Bartender (Maude): Ian Pelton
Geezers: David Ruprecht, Ezra Thompson, and Peder Thompson
Mrs. Johnson: Ariel Jones
Another Parent: Katrina Daby
Policeman: Harrison Fangmeier

Director: Cheryl Bungum
Stage Managers: Brianna Fischbach, Heather Rondeau, and Peder Thompson
Acting Coach: Ian Pelton
Accompaniment: Cheryl Bungum
Lighting: Ian Pelton and Mike Putzke
Set Construction and Design: Gretchen O'Fallon and Ian Pelton
Painting, Props, etc.: Choir Members
Costumes: Colleen Pelton
Sewing: Kris Daby, Diane Nelson, Kayla Nelson, Elaine Seifert, and Becki Thompson
Poster and Ticket Design: Val Miller
Program: Shawn Reinke
---
Contact the author at editor@paynesvillepress.com • Return to News Menu
Home | Marketplace | Community
---