DeWayne Mayer, a 1984 PHS graduate, recently received a Purple Heart for wounds he suffered while on duty in Iraq.

Mayer, who lives in New Plymouth, Ore., is a staff sergeant in Charlie Company of the 3rd Battalion, 116th Cavalry, of the Oregon National Guard.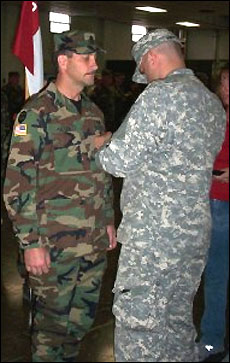 In October 2005, while on duty in Iraq, Mayer was wounded when Iraqi insurgents detonated a 155-millimeter howitzer round buried inside a tire as his Humvee sped past. Mayer said shrapnel from the improvised explosive devise (IED) came up under the armored seat where he was sitting and slammed into his leg.
DeWayne Mayer (left) - a 1984 PHS grad - received a Purple Heart in October for wounds he suffered on duty in Iraq with the Oregon National Guard.
He suffered other minor injuries from the blast, as did the four other soldiers in the Humvee. Had they not been riding in an up-armored vehicle, they would probably all be dead, Mayer said last spring.
Mayer returned to the United States not long after he was wounded, according to the Argus Observer in Ontario, Ore. He has spent the past year receiving treatment for the wounds he suffered during the IED blast and still carries the scars on his leg from the incident.
Mayer received his Purple Heart in recognition of his combat wounds at a ceremony at the Ontario (Ore.) Army National Guard Armory on Sunday, Oct. 15.
Company commanders Captain Eric Vandewalle, after pinning the medal onto Mayer's shirt, said that Mayer's ceremony was a celebration of the sacrifice made by all the soldiers of Charlie Company who served in Operation Iraqi Freedom. Mayer said he was humbled by the ceremony. It feels good, but I'm not sure I deserve it, he said, according to the Argus Observer.
His platoon leader in Iraq, Lieutenant Seth Musgrove, disagreed, saying the Purple Heart was well deserved. Mayer sustained injuries, but he stayed tough, said Musgrove. I'm proud to have him as a soldier in this company, Musgrove added.
After living with the Iraq deployment for nearly two years, Mayer's wife Jeannette said the ceremony marked a milestone. I couldn't be prouder of my husband, she said. He earned it. DeWayne and all the soldiers served a cause bigger than you and I.
Mayer's parents, Bernard and Irene Mayer of Paynesville, attended his Purple Heart ceremony in Oregon.
Mayer said his deployment and combat wounds changed his outlook on life. "I have a different appreciation for life now," he said.
(Editor's Note: Information for this article comes from an article by Pat Caldwell in the Argus Observer of Ontario, Oregon.)
---
Contact the author at editor@paynesvillepress.com • Return to News Menu
Home | Marketplace | Community
---