Imagine that you are a doctor and a patient comes into the emergency room and gives you a brief health history. They saw one of your partners in a satellite clinic this week and took some tests and were given some medication...a little white pill.

Ready to make a diagnosis?

The Minnesota Medical Association honored 12 physicians with its inaugural Leadership in Quality Awards this year. Dr. Tim Malling, for championing electronic medical records at the Paynesville Area Health Care System, was one of nine physicians in the state given honorable mention.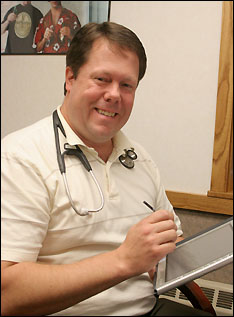 The award winners were named in the fall newsletter of the Minnesota Medical Association.
Dr. Tim Malling received one of 12 inaugural Leadership in Quality Awards from the Minnesota Medical Association this fall.
Malling, who has practiced medicine in Paynesville since 1996, first used electronic medical records a decade ago during his residency in Eau Claire, Wis. When he joined PAHCS, with satellite clinics in six towns, "the problem we had was every clinic had a separate chart," said Malling.
Patients might see a doctor at a clinic one week, at another clinic the next, and maybe at the emergency room the next...but their records did not follow them, forcing doctors to rechart old ground, the previous diagnoses and treatments given.
There weren't any software programs that met PAHCS's needs until six or seven years ago when Chartware - developed by a practicing doctor in California - became available. PAHCS has been slowly implementing electronic medical records since then, as funds allow.
"Everybody has been using it in one shape or form for the past three years," he said.
Some doctors, though, still dictate their patient notes, which are transcribed by PAHCS staff and entered into the digital record. Malling, on the other hand, uses a computer console during patient interviews to enter and access information immediately. His wireless console, not a computer at all, just lets him access the secure server onsite at PAHCS. That way if a laptop is stolen; it will not contain any confidential medical records.
With it, he can interface with records for consulting physicians (specialists), clinic, hospital, and emergency room records, radiology tests, and pharmacy records. PAHCS is currently working on a lab interface.
Having all his patient's information at his fingertips - knowing exactly where to find aspects of the health history or even listing key features of their health history - "helps us take better care of patients because he have the information right there," said Malling.
Though it took hours of extra time learning the software after work at the office and at home - he said he didn't know much at all about computers when he started with electronic medical records six or seven years ago - his computer now allows him to be more accurate (entering data with patient present) and the records to more accessible (including prioritization and automatic reminders, to check test results, for instance). With a laptop, Malling can even store digital pictures (say of a mole to see how it changes over the next year).
Malling uses voice recognition software to have his computer type his spoken notes during patient health histories.
Dr. Randy Nelson, D.O., also uses a laptop extensively during patient interviews and visits.
Medicine really is data management, said Malling, since medical diagnosis is not fool-proof. Certain symptoms might have two dozen possible causes, and sometimes it takes patient interviews, lab and x-ray results, family health history evaluation, consulting with specialists, and drug treatments to find the right diagnosis.
All these are data, and data management eliminates possible causes and finds the right one.
A third of a doctor's time is spent on paperwork, said Malling, compared to two thirds on direct patient interaction and care.
Developing electronic medical records, though, can be a long-term investment. In the case of an annual physical, Malling might not use his electronic medical record entries for another year or more, until the patient returns.
Malling, who was nominated by an anonymous partner, said he was very flattered to get the award. All his partners seem to have niche in their practice, he said, and his project was electronic medical records, which wasn't the most traditional medical venue.
His partners already recognize the importance of this project by allowing him to work on Thursday mornings on administrative issues. His current focus is meeting with other departments and technology support to work out the bugs for the lab interface.
Administration also recognizes the importance of electronic medical records, he said, by paying the bills for the computer equipment.
Now, when a patient comes to the emergency room and says he took a little white pill last week, Malling can look it up...on his laptop...and now exactly what the medicine was.
---
Contact the author at editor@paynesvillepress.com • Return to News Menu
Home | Marketplace | Community
---