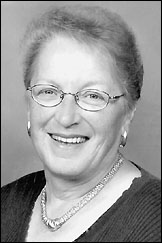 Last week marked the end of a 20-year career for Donna Ahrens as the the administrative assistant for the Paynesville Area School District.

Donna Ahrens retired last week after a 20-year career as the district administrative assistant. She worked with five superintendents during her tenure.

Ahrens, whose last work day was Friday, Oct. 27, shared career anecdotes that were surrounded by themes of laughter, dedication to her job, and loyalty to the Bulldogs.

A 1962 Paynesville High School graduate, Ahrens began working for the district as the administrative assistant to the superintendent in the 1980s, following a stint on the school board herself.

Ahrens worked with five superintendents over the course of her career with the school district, spending the most time with former superintendent Howard Caldwell (15 years). When she started, the district office was located in the high school, with her office being a small area in the administrative wing.

"The biggest change was moving sites," she said of the district office relocation from the high school to the elementary school in 1993, following the demolition of the old middle school, the construction of the new middle school, and the remodeling at the elementary school that included building a new district office compound.

Among the changes during her time in the office, she said that "going from paper, pencil, and a word processor to a computer" has been an obvious change along with her computer skills, which have been mostly self-taught.

In addition to assisting the superintendent, including typing school board agendas and minutes, Ahrens officiated school board elections as the official election judge, she compiled staff articles along with activity schedules and other information for the district newsletter, and she handles paperwork for insurance. Often, she visited teachers at home if they were not able to make it to school to sign documents or to make sure required paperwork was in order. She said of this extra step, "I just thought that was part of my job," and continued, "If I'm the insurance secretary at school, it's my responsibility to see that their health insurance, disability insurance, and life insurance is in order."

"I won't miss having to come to school board meetings on Tuesday nights," she said. "And I certainly won't miss getting up early in the morning." She also bid a sweet farewell to all the paperwork and to the state reports, which didn't get any simpler with computers, she added.

"The biggest thing I'll miss is the staff themselves and my co-workers," said Ahrens. "I've worked with some pretty neat staff, some pretty neat situations where I've assisted."

Hilarious memories with staff included her birthdays, certainly not forgotten, and pranks pulled at her expense. "My 50th birthday went on for two months," she said, and she revisited the amusement of cynical endearment shown by co-workers who gave her dirt for her 60th birthday, "because I was as old as dirt."

"Whether it was a chair fishlined to the desk, or my phone taped to the holder, or string webbed throughout the entire room," she said with her own monkeyshine grin, "these people are special." She said she will miss having co-workers stop in to her office to chat and tell jokes.

Secondly, she will miss the bustling sports fans in the hallways, especially on game days, when there was always an extra dose of school spirit in the air.

Ahrens and her husband, Lew, are known around town as lifelong Bulldogs fans. They have announced at PAHS football games, wrestling meets, and volleyball games for years. She chuckled upon recollecting a football game where a member of the opposing team was tackled by a jumbled pile of Paynesville players, when she announced to the delight of the stadium that he "was tackled by a whole group of Bulldogs."

Ahrens, who operated the computer during conference and region wrestling tournaments, was once approached by a referee who, due to her legendary team loyalty, prodded, "Aren't you a little partial to those Bulldogs?"

"Lew absolutely loves high school sports," she said of her husband. "We spend many, many nights in the gym watching basketball and wrestling, and we watch football."

The district held a retirement party for Ahrens on Wednesday, Oct. 25, which was attended by many current and former staff, friends, and family. A special guest in attendance was Ahrens' grandson, second grader Nicholas, who wore a tie for his grandma's special day. She said that she will have fond memories of Nicholas dropping by the office for visits. "He sneaks in to see grandma and give grandma a hug," she said.

In her retirement, Ahrens said she is looking forward to the free time. She plans to travel and hopes to get involved in more volunteer work in the community. She is also looking forward to gardening, quilting, crossword puzzles, jigsaw puzzles, attending sporting events, getting together with old friends, and "just not doing anything."

She added that this will be a good time of year to begin her retirement because, with the holidays approaching, "I love decorating and baking." She is also planning to do some leisure reading and stated, "I have lots of reading to catch up on."

With Ahrens' retirement, some switching has occurred. Elementary secretary Linda Mayer is the new administrative assistant in the district office, and former paraprofessional Polly Jaeger is the new elementary secretary.
---
Contact the author at editor@paynesvillepress.com • Return to News Menu
Home | Marketplace | Community
---