When 17-year-old Craig Nisbet of Glasgow, Scotland, thought of the United States, he thought of New York City or Chicago. Never in his wildest dreams did he imagine he would end up on a farm outside of Paynesville, Minnesota.

Craig, who arrived in the area in August, is an exchange student spending a year in Paynesville. He is living with Tim and Sheri Wegner on their farm north of Paynesville. Craig will spend his senior year at PAHS and will have the opportunity to thoroughly sample rural life.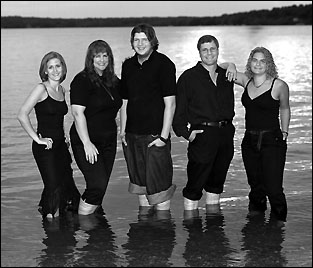 At the end of the last school year, Craig's grades were high enough to start college, but he didn't think he was ready. He had vacationed in the United States and he knew he eventually wanted to live here, so becoming an exchange student was a logical choice, he said.
He applied to become an exchange student through a program called Youth for Understanding. On the application, Nisbet could have indicated whether he preferred an urban or rural placement, but he left the question blank because he didn't want to appear pushy.
Craig Nisbet, an exchange student from Glasgow, Scotland, will spend his senior year at PAHS and live with the Wegner family of rural Paynesville. Family members, from left, are Marie, Sheri, Craig, Tim, and Kristi.
"So here I am," he said.
Although he misses his friends and family from Scotland, he really likes his host family and his new school. "I already have more friends here than I have back home," he said. "Everybody is so much friendlier here."
Of the Wegners, he said Sheri is just super and a great cook. Tim is really laid back, and Nisbet likes to talk to him. Now, they're working so hard to get crops harvested, that Nisbet hasn't seen as much of Tim as he would like, but he's beginning to understand what it means to live on a farm.
School here is very similar to Glasgow. While he said he's doing well in his classes, Craig is challenged by subjects like American government and history, because he doesn't have the same background knowledge his peers have.
Glasgow is the largest city in Scotland with a population of more than 600,000 and is a major industrial center. The weather in Glasgow is more tepid than here; the summers are cooler and less humid, and the winters are mild. There may be an occasional snowfall, but snow doesn't stay on the ground very long.
Craig can't even imagine below-zero weather, but he is looking forward to the snow. Hopefully, he will get to go snowmobiling, something that just isn't done in Scotland.
Another new experience for Nisbet was his trip last week to the Twin Cities and the Mall of America. "It was a lot bigger than I expected," he said of the world-famous attraction.
Nisbet is a big music fan, and a lot of the music he likes isn't available on CDs in Scotland, so visiting the mall gave him an opportunity to go shopping for music.
Nisbet keeps in touch with his friends and family by e-mail. Homesickness hasn't been a huge problem for him. Only when he talks to his family on the phone does it hit him. "It's so much more personal than e-mail," he explained.
Eventually, Nisbet would like to study psychology or sociology back in Scotland, but he hopes to return to the United States after college.
---
Contact the author at reporter@paynesvillepress.com • Return to News Menu
Home | Marketplace | Community
---