Similarities, as well as differences, came to light last week when legislative candidates in District 14 and 14B squared off in a rather friendly candidate forum.

Senate District 14 candidates Michelle Fichbach (R-Paynesville) and Lynn Shurman (DFL-Cold Spring) along with House District 14B candidates Mike Slavik (DFL-St. Joseph) and Doug Stang (R-Cold Spring) addressed four main topics: the state's budget crisis, K-12 education, the state's transportation system, and rural representation.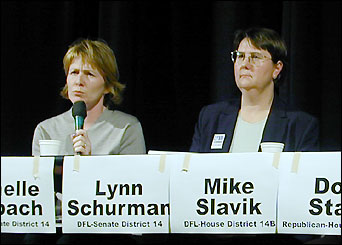 Disagreements arose on how to solve the budget crisis, how to raise and use transportation dollars, and how to best represent Greater Minnesota in a Legislature with more and more metro and suburban members.
Sen. Michelle Fishbach (R-Paynesville) answers a question during the local candidate forum last week while her challenger Lynn Schurman (DFL-Cold Spring) waits for her turn to speak.
All of the candidates agreed that budget cuts have to be made to solve the looming state budget deficit, most recently estimate at a little over $3 billion. The four candidates stressed finding efficiencies in government first and raising taxes as a last resort.
Schurman, though, did address that solving the budget crisis solely by spending cuts may be difficult. She cited statistics showing that 90 percent of the state budget goes to K-12 education funding, higher education, health and human services, and aid to counties and cities - all programs that are important to Minnesotans and would be very difficult to cut. "Making cuts is going to be painful," Shurman said, "but we need to cut wherever possible without shifting cuts to schools and local governments."
On transportation, the candidates split on party lines towards the best uses of transportation dollars. Fishbach and Stang, both incumbents, stated their beliefs that the primary focus should be on roads and bridges and that rural Minnesota must receive its fair share of transportation dollars.
Stang added that expediting road projects and changing the criteria for bidding at MnDOT would save the state money. He would also like to see the state do more bonding for future projects now while interest is low.
In addition to roads and bridges, Shurman and Slavik both support mass transit. They were more enthusiastic towards raising the gas tax to pay for roads and bridges as well as mass transit projects.
Fischbach and Stang said money raised from the gas tax should be used only for roads and bridges.
Another area for disagreement was how rural Minnesota could best be represented at the capitol. Greater Minnesota recently lost more representatives in the redistricting following the 2000 census.
Fishbach said experience is the key to helping rural Minnesota, with more experienced legislators having more clout at the capitol. Stang added that rural representatives need to be able to form coalitions with metro area representatives, who, in turn, could help pass legislation that will benefit rural residents and farmers.
Slavik, however, felt that rural Minnesota needs louder representation - someone who will be vocal about getting help for rural areas. Schurman said the the key was forming coalitions and she would be better placed as a member of the majority caucus in the Senate.
As for education, all the candidates agreed that state funding was unfair, in that metro school districts get higher reimbursement rates than rural schools. They also agreed that the federal government should pay its full share for special education, as promised.
For the Profile of Learning, all the candidates agreed that the current format was not working well and changes needed to be made. Stang , who has voted to repeal them, said he would continue this position, allowing school districts to decide to use them or not. His opponent, Slavik, agreed that changes needed to be made but wants a new system before repealing the current one.
The candidate forum, held on Tuesday, Oct. 22, in the school auditorium, also featured the four candidates for Paynesville City Council and the three candidates for hospital board in Paynesville Township.
The candidates for Paynesville City Council - incumbent Jean Soine, challenger Jackie Braun, and incumbent Dennis Zimmerman, and incumbent mayor Jeff Thompson - led off the forum. These candidates were quite amiable, disagreeing on very little. As a matter of fact, one of the audience members, after listening to the candidates, called them quadruplets and asked for some specific accomplishment to distinguish them.
The council candidates covered topics ranging from Highway 23 to the city's relationship with the township to the community's needs for recreational facilities.
The largely candidates agreed that the best future route for Highway 23 should be west and north of town, though some were undecided if a near bypass or one further out would be better. Soine said the town shouldn't be divided by a route to the south, between the city and Lake Koronis..
Braun said she doesn't think Highway 23 should be right by the school.
Thompson, while saying that he did have a personal preference, indicated that he would support the route determined by the local advisory group and MnDOT engineers.
All the candidates agreed that the council should strive to create a good relationship with Paynesville Township through compromise and cooperation. They noted, that while they have honest differences, they are still working together on the community pool project, as well as other joint efforts.
They also all supported a community pool, though Braun would like to put the project to a vote. Zimmerman also mentioned that a recreational trail would be a great asset to the community..
Braun, Soine, and Zimmerman are competing for two spots on the council for the next four years, while Thompson is running unopposed for another term as mayor.
Hospital board candidates for Paynesville Township - Brad Johnson, Denise Hansen, and Kay Spooner - addressed issues facing the Paynesville Area Health Care System. (Spooner was unable to attend but submitted answers to prepared questions.) They stated what they thought would be priorities for PAHCS, how to improve the financial situation, the importance of long-term care, and how PAHCS can stay independent and keep offering quality of care.
They all agreed that PAHCS needs to keep its facilities in great shape and staffed with quality personnel. And they expressed their interest in serving on the hospital board and their views that long-term care is integral to PAHCS.
The three candidates are vying for one seat on the board for the next four years. They are trying to replace Grace Peteler, who chose not to run for re-election.
The candidate forum was sponsored by the Paynesville Press and moderated by editor Michael Jacobson.
---
Contact the author at reporter@paynesvillepress.com • Return to News Menu
Home | Marketplace | Community
---