Sarah Baumhardt
This article submitted by Linda Stelling on 10/27/98.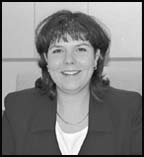 "I couldn't get out of Paynesville fast enough when I was in high school," Sarah Baumhardt said.

After living away from Paynesville for five years, Baumhardt decided Paynesville wasn't such a bad place to live after all.

Baumhardt, 25, attended college at Duluth and St. Cloud. When the opportunity arose for a job at the Melrose Credit Union arose, she decided to take the position.

"Mom and dad supported the idea. My family and friends are here," she said. "I always wanted to live in a smaller community, but didn't realize it would be Paynesville when I was in high school."

Baumhardt feels St. Cloud and the Twin Cities are close enough to attend plays and other activities, but that it is rather nice to return to Paynesville.
---