Ingasbe takes part in National Young Leaders
This article submitted by Linda Stelling on 10/27/98.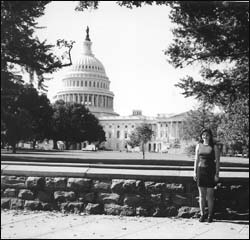 Amber Ingalsbe, a senior at Paynesville Area High School, recently attended the National Young Leaders Conference in Washington, D.C.

This unique leadership development program invites high school students, chosen on the basis of their scholastic merit, community involvement, and leadership experiences, to interact with todayĻs national leaders.

The daughter of Dave and Barb Ingalsbe, rural Paynesville, Amber was one of five Minnesotans taking part in the conference.

"I really enjoyed meting all the people from across the United States and those from Europe," Ingalsbe said.

Her roommates were from Ohio and Chicago. The teens attending from Florida thought Washington, D.C. temperatures were cold and wore winter coats while Ingalsbe and the students from Alaska thought the weather was great and went about in their shirt sleeves the whole time.

The students had the opportunity to lay a wreath at the Tomb of the Unknown Soldier during their stay in Washington. They also had the opportunity to meet with leaders in Congress by spending the day at the Capitol. Rep. David Skaggs, D-Colo., greeted the students on the floor of the House of Representatives. Students sat in the same seats as their representatives and filled the chamber where the State of the Union address is given.

Each day the students met a different speaker. Ingalsbe enjoyed listening to Gil Coronado from the Selective Service. "He was a high school drop out and turned his life around and achieved many of his goals," she said.

Ingalsbe also took part in a model Congress. "In our caucus, we were assigned an amendment. It was our responsibility to persuade people to vote for the amendment on tobacco reform," Ingalsbe said. We did a lot of work on the bill and I couldn't believe it when the amendment didn't pass. It was a big learning experience to learn that one little thing added to a bill could kill it," she added.

Ingalsbe also participated in a number of leadership skill-building activities. In one activity, "If I were President," students role-played the president and members of the cabinet, responding to an international crisis involving India and Pakistan. Ingalsbe was the secretary of state and together with the cabinet members they had to decide whether to take military action or negotiate further. "We decided to negotiate," she added. In another activity, a judicial simulation, called "Testing the Constitution," Ingalsbe was a justice member hearing a case on physician assisted suicide.

Because leadership goes beyond Capitol Hill, students had the opportunity to interact with a panel of journalists at the National Press Club. Journalists in attendance were James Carney of Time, Ceci Connelly of the Washington Post, Ann McFeatters, Scripps Howard News Service, and Reginald Stuart, Emerge magazine.

"I was surprised to see how well everybody got along," Ingalsbe said. "I thought it great that students from Italy, Austria, New Zealand, Mexico and Austrialia could see how our government worked."

---