Dale and Lora Lorenz
This article submitted by Linda Stelling on 10/27/98.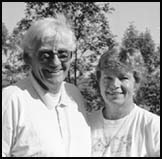 Dale Lorenz has lived in Minnesota all his life and with his retirement years approaching, he wanted a place with water in his front or backyard.

Dale and Lora Lorenz lived in the Twin Cities, but were looking to move to a smaller community. A neighbor told them about Lake Koronis. In 1991 they purchased the former J.B. Johnson property and the next summer they built a new home on the lot which is located on the western edge of the Regional Park.

"We love the lake and the people in the area," said Dale, a retired college professor. "We wanted a place within 100 miles of the Twin Cities so if we wanted to go into the cities for a day, we could."

"The lake is charming and we admire the people who have lived here for years in the winter weather. They seem to get around, no matter how much snow falls," Lora added.

Lora was born in Germany and has lived in Canada and British Columbia. She had never lived in a town smaller than 35,000 people. "Living on the lake was a totally new experience for me," she said. "I have grown to relish the peace and quiet." The couple spotted 60 different varieties of birds on their property this summer.

"The advantages of living in a smaller community far outweigh the disadvantages," Dale said. "We would highly recommend small town living. The people have a different work ethic. They have a very positive attitude about life and a strong value structure. I like seeing the intergenerational mixing between the kids and adults in various activities around Paynesville. Too many times you see parents and youth going in different directions."

They added that everybody talks to everybody. "Kids are not afraid to talk to adults. It helps build self-esteem in the youth of the community," Dale said.

"Kids can grow up in a community knowing they are loved. They can say good morning to the people on the street, not caring whether they know them or not," Lora said. "I had to adjust to that friendliness. It didn't take me long to realize people were waving because they were friendly."

"The trend will be for more and more people to live in smaller towns because of the technology. With today's technology a person doesn't need to live close to the office. They can work at home and be in touch with the office through their computers," Dale added.
---