Chris Stanley
This article submitted by Linda Stelling on 10/27/98.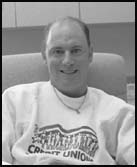 Chris Stanley, a graduate of South Dakota State University, Brookings, S.D., said "I'm not into big towns. Personally, I like to know who I'm talking to when people come into the place where I work."

Stanley is a loan officer at the Paynesville Office of the Melrose Credit Union.

"I have a lot of friends around here and enjoy the laid back atmosphere of the small town. I don't like to rush about or get caught in heavy rush hour traffic on a daily basis," he added.

A graduate of Paynesville Area High School, Stanley said he had the opportunity to work in the metro area, but couldn't see himself driving and hour or more to work daily.

"I've lived here my entire life and feel everything I need is here: fishing, hunting, friends and family. I saw the other side of the street and never ever want to live in the cities," Stanley said.

Stanley added that St. Cloud is close and the cities are nice to visit but he enjoys returning home to Paynesville.

Stanley enjoys playing golf at Koronis Hills Golf Course and belongs to a baseball league and two softball leagues.

"I worked at the credit union during previous summers and liked the office. When the opportunity for a full-time job arose, everything seemed to fall into place for me and I can see living my entire life in Paynesville," Stanley said.

"When I decide to marry, I want to raise my family in a smaller town where the kids will know the people in their community. By living in a small town you get to know the people you live with and work with personally. They are not just another face that comes into the office, but a friend," Stanley added.

---